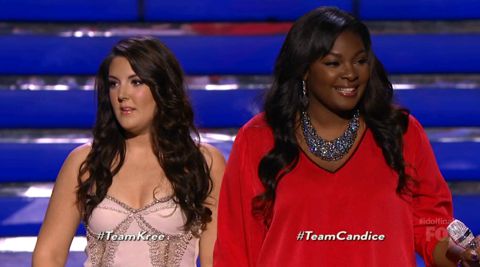 The season all comes down to this to decide who is going to win American Idol 2013. What started with 100,000 Hopefuls is left with just two incredible female finalists. Kree Harrison and Candice Glover remain and are ready to take the stage tonight with three songs a piece.
I'll be here posting all the songs and voting phone numbers with the live blog updates below. Meanwhile Branden will be sharing his live critiques of the night's final two performances in another post (link). Let's hear your thoughts in the Comments section below!
Ryan Seacrest is likely to let us know soon, but rumor has it Kree won the coin toss and gave up the chance to close out the night by electing to go first instead. Interesting strategy and a big gamble, but we're guessing she's up to the challenge and Candice is ready to deliver again with some big songs.
The Top 2 song spoilers are here if you can't wait to hear what they'll sing as it's announced during the live show. We're anxious to hear how these new songs go.
As soon as the live show ends at 9PM ET and SYTYCD starts the voting lines will open and you better get cracking because according to our "who will win American Idol 2013?" poll, this race is neck and neck with the singers practically tied. Even our "Like" your favorite poll on our Facebook page has the singers divided by just a few dozen votes out of over a thousand.
You can see all of your Top 11 perform this summer on the American Idol 2013 tour! Get the concert schedule and see when Idol is coming to a town near you.
American Idol Top 2 Finale Performance List:
American Idol 2013 Top 2 Live Performances – Round 1 – Simon's Pick:
Kree Harrison — Angel — 1-866-436-5701
Candice Glover — Chasing Pavements — 1-866-436-5702
American Idol 2013 Top 2 Live Performances – Round 2 – Coronation:
Kree Harrison — All Cried Out — 1-866-436-5703
Candice Glover — I Am Beautiful — 1-866-436-5704
American Idol 2013 Top 2 Live Performances – Round 3 – Reprisal:
Kree Harrison — Up To The Mountain — 1-866-436-5705
Candice Glover — I (Who Have Nothing)1-866-436-5706
When the show ends the voting starts and we'll have our "who was the best?" poll right here ready for you to cast your unofficial votes and cheer for your favorite.