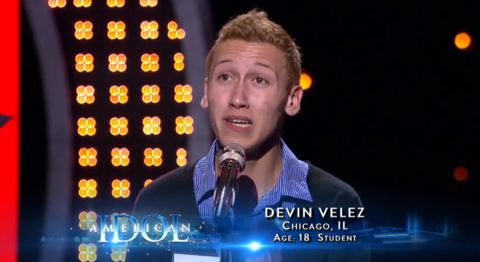 Last night on American Idol 2013 Devin Velez continued his pursuit of making it to the big finale. His performance of "What A Wonderful World" earned a round of applause from the judges and praise from Keith Urban.
Velez made it through several elimination rounds during Hollywood Week but now he'll face another cut when the judges drop the Top 28 guys down to the Top 20 as was revealed during last night's episode.
According to our spoilers you won't have to worry for Devin Velez. He's going to survive Hollywood and be sent on to Las Vegas, but what happens there is anyone's guess.
Check out Devin's performance video below and check out Velez's profile and backstory. It's pretty interesting that Devin actually got his audition chance after performing at Walt Disney World's American Idol Experience.