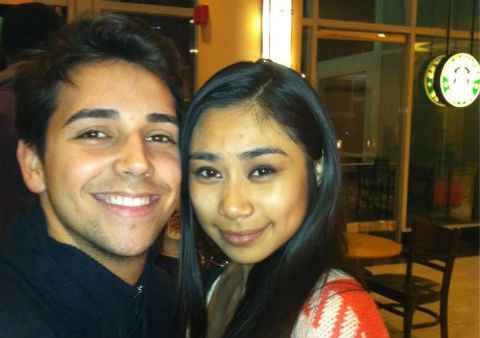 American Idol 2013 hopeful Lazaro Arbos' touching story and great audition already has him situated as an early fan favorite. In fact, he's gotten so much love on Twitter that if he doesn't actually make it beyond the Top 40, there might be an uprising by fans.
Among Lazaro's Twitter friends is American Idol Season 11 runner-up and fan-favorite Jessica Sanchez. Lazaro and Jessica are acquainted in real life and he has tweeted two photos of the two of them together. They've also exchanged some tweets about the photos.
"She's such a beautiful person inside and out!!" Lazara tweeted.
"why do I love you so much?!?! Oh yeah, cause you're amazing 🙂 Muah! x" Jessica tweeted back.
It's pretty cool to see the former and current contestants interacting.