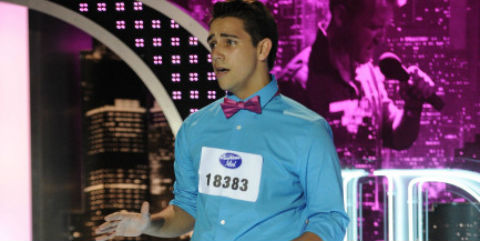 There are a lot of American Idol backstories that I tend to shrug off or poke fun of, but one American Idol 2013 backstory from Thursday night's Chicago auditions, had a diffract effect on me. It's because it was a legit story. It was one that had to be told because it couldn't be ignored or hidden or faked.
I'm of course talking about Lazaro Arbos. His story isn't that he was on drugs or almost died from an exploding ski lift or anything, he just simply stammers. He says the issues costs him friends and other things in life. But when he sings, he doesn't stammer. He sings crisp and clear and emotionally. He was one of the better auditions from the first two nights of this season.
Let's take another look at his audition. Watch his story and his audition to "Bridge Over Troubled Water" below.
Lazaro got his golden ticket to Hollywood but does he make it beyond? Find out by checking out our American Idol 2013 Top 40 spoiler list.