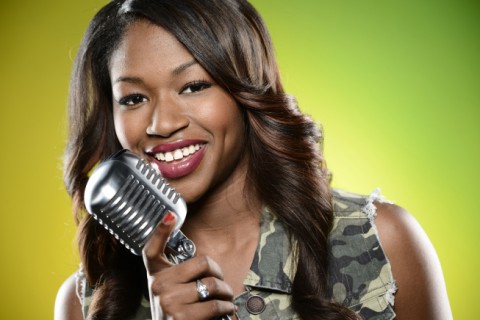 Tonight on American Idol 2013 the Top 4 are set to take on two solo songs each and there'll be a couple duets thrown in as well.
This week Angie, Kree, Amber and Candice are taking on one-hit wonders and songs of their own choosing. And from our song spoilers list, it's going to be an interesting night. It could go a few different ways, but I'm remaining hopeful. As always, I'll be reviewing each performance and assigning the letter grade I think each deserves.
And we're covering it live once again. Be sure to stick with us and do your own live commentary in our comments section below!
The American Idol 2013 Top 4 Performances
Personal choice
Amber Holcomb, "The Power Of Love." I really liked the a cappella beginning to the song. If Amber had performed like this all season, then I'd get why the judges are so into her. Because I think this was Amber's best performance to from the whole season. She was connected to the song, she looked great and the vocal was very powerful. Grade: A+
Candice Glover, "Find Your Love." I don't know this Drake song, but Candice made me want to know it. Candice has what none of the other three has: soul. She's an absolute natural on the stage. She feels the songs like none of the others, too. She sings every single note with expertise and love. Grade: A+
Kree Harrison, "Hurts So Bad." I think this was a really bad song choice. It didn't fit right in her register and basically no one voting is going to recognize the song or respond to it. I think she put herself in danger with this song. Grade: B+
Angie Miller, "Who You Are." Angie is a great singer but this song was awful. I hated it a lot, actually. And it also sounded like every other performance she's given. Grade: D C-
Duets
Kree and Amber, "Rumor Has It." Eh. Not so great for Amber. This was more in Kree's wheelhouse. Grades: Amber — D Kree — A-
I'm going to break in here with a random thought: Could the judges (Nicki and Randy mostly) be any more OBVIOUS with their Amber push? Amber could seriously burp the Birthday Song and she'd get a standing ovation. I have never in my life witnessed a more manipulated reality show than I have this season with Idol. I thought it would stop after the guys were all gone, but now they're doing everything they can to make sure Amber beats Candice and Kree. Disgusted.
Angie and Candice, "Stay." These two girls are great singers, but they don't fit well as a duet. Weird performance. Grades: Candice — B Angie — B
One-Hit Wonders
Amber Holcomb, "MacArthur Park." Song choice… eh. Vocal. Phoned it in. I couldn't even hear her at times and she was dropping notes left and right. If the judges praise this, then what I said above is even more blatant. Grade: C- (A standing O?? For that!? Wow)
Candice Glover, "Emotion." This probably wasn't the best song choice as far as sounding young and all that garbage the judges always bark about, but Candice sounded great. The back-up singers sounded awful, but Candice sounded great. But overall it was boring and if the judges don't hate it, I'll dance a jig. After I find out what a jig is. Grade: B-
WOW. Did Nicki really just start talking about Amber during CANDICE'S critique!? Wow, wow, wow. This is offensive.
Kree Harrison, "A Whiter Shade of Pale." It might be an older song, but Kree nailed it. Loved her version of this song. There was emotion and power and if they cut on her again, they're crazy. Grade: A
Angie Miller, "Cry Me A River." Now this was a what I was talking about. This is Angie showing a new side. Which is why I graded her poorly above (I've actually improved her grade because I was unfair in the heat of the moment). What she did earlier sounded like all of her other performances. This, however, was fresh for her. And it sounded amazing. It sounded like a great James Bond song. Grade: A+
What did you think of the performances tonight? And what do you think of all the judges' critiques?