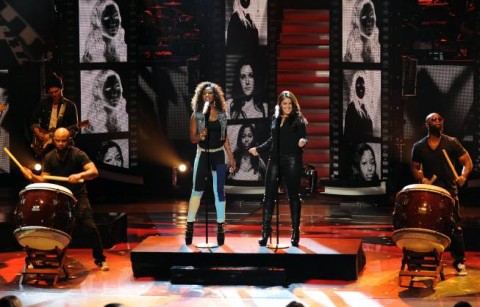 It's that time again. Tonight is the results show on American Idol 2013 so it's time for me to once again make  my predictions for who stays and who goes tonight.
But that's not going to be very easy this week because there's going to be a big twist announced tonight. And I'm pretty sure that twist, whatever it actually is, will result in no contestants being eliminated this week. If you don't know, the judges not using the save this season has put the show ahead of schedule, so they need to fill an extra week. So expect a non-elimination tonight.
With all that in mind, I'll go ahead and make my regular predictions on who would go home tonight if someone was actually going home.
The American Idol 2013 Top 4 Results Predictions
100 Percent Safe: Angie Miller
Most Likely Safe: Amber Holcomb. The judges have made sure of this. They pimped her SO hard there's no way she'll come in last place tonight. But if she does, that will make for a dramatic steal.
Possibly The Bottom Two: Candice Glover and Kree Harrison. This will be a travesty. But the judges' Amber praise has almost guaranteed this outcome.
In danger of going home: Candice Glover.
Now those are my thoughts based ONLY on how I think America's votes will play out. Those are not my opinions. But since a lot of people always get those predictions confused as my opinions, I'll go ahead and state my opinions. If i had it my way, Amber would go home tonight and Kree and Candice would be in the Top Two, positioning Angie to be eliminated next week. So that would give us a Kree vs. Candice finale. But producers and the judges are clearly aiming for an Angie/Amber finale. So obvious.
What do you think and hope will happen tonight on American Idol 2013?