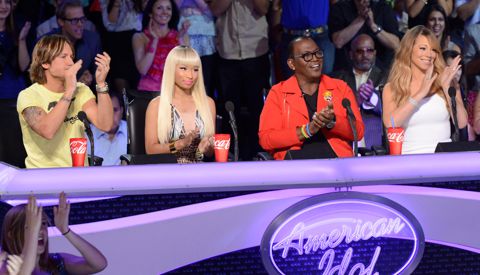 Tonight on FOX host Ryan Seacrest will reveal the latest American Idol results for the 2013 season's Top 4 finalists. The singers delivered double performances last night plus a round of duets. One of these ladies will be going home. Or will they?
A new twist is set to hit the stage tonight as promised by Ryan in the final minutes of last night's American Idol episode. We're expecting that to mean no one goes home either this week or next, but we'll know for sure in just a few more minutes.
Don't forget about the American Idol summer tour! The top 11 performers will be traveling the country and making stops in 40 cities so there's bound to be one not too far from you. Get all the details on cities, venues, & what tickets will be available
.
As the show gets started Ryan Seacrest says the twist will turn the competition "upside down." Well that sounds serious. Maybe the finalists will be voting out a judge tonight?! Just kidding.
Results time. Ryan splits the girls in to two groups. Amber and Candice head to the far side of the stage while Angie and Kree are on the other side. One group is the bottom two and the other is the top two. Which group is which?
American Idol 2013 Top 4 – Top 2:
American Idol 2013 Top 4 – Bottom 2:
Ryan says one of these two could be going home. See, we told you so!
The twist is that no one will be going home tonight. Both Candice and Amber are safe this week.
Don't worry about your votes though. They'll be added on to next week's results and the singer with the fewest votes next week will be eliminated with no chance of redemption or return.
Did America get the vote right this week? Share your thoughts!