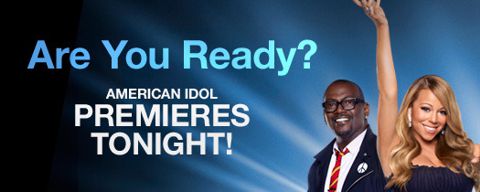 Tonight on FOX the American Idol 2013 premiere will air starting at 8PM ET and run for a full two hours. We'll be treated to the first part of a two-part season premiere which will make up a four-hour, back-to-back event for tonight and tomorrow.
Tonight's episode of American Idol will feature New York auditions before moving on to Chicago for Thursday's two-hour episode.
We've been busily spoiling the Season 12 Top 40 Hopefuls for the past month so check out list of names and our Top 40 profiles with bio details and performances.
We've also posted the American Idol schedule through March 2013 so you can set your DVRs and calendars to catch all the auditions, Hollywood Week, Las Vegas rounds, and beyond. Things have really changed this season as there won't be voting for the Top 24 singers like we've seen in the past so be sure to stay on top of what's next.
Be sure to join us on Facebook, Twitter, and by Email updates to get all the latest American Idol results, news, and updates throughout the season!