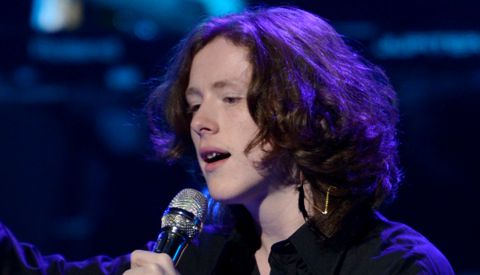 We now know who was cut from the guys first round in Las Vegas spoilers during the taping last night, but now we know the order and what they'll be performing as part of tonight's American Idol 2013 show.
The details below were leaked thanks to the live studio audience watching the performances at The Mirage in Las Vegas. Just like the night before we have good information on what songs they sang which makes it interesting to compare with who was eliminated. Clearly singing a song by one of the judges didn't hurt anyone's chances so maybe that'll continue to be a go-to choice for the remaining Hopefuls.
American Idol 2013: Top 20 Boys – Las Vegas Round 1 Spoilers:
Paul Jolley – "Tonight I Want to Cry" by Keith Urban
Johnny Keyser – "I Won't Give Up" by Jason Mraz
Kevin Harris – TBD
Josh J'DA Davila – TBD
Elijah Liu – "Tallking to the Moon" by Bruno Mars
Chris Watson – "Sitting on the Dock of the Bay" by Otis Redding
Devin Velez – "Listen" by Beyonce
Charlie Askew – "Rocket Man" by Elton John
Jimmy Smith – "Raining on Sunday" by Radney Foster
Curtis Finch, Jr. – Luther Vandross song
Are you ready for the guys to perform tonight on American Idol 2013? Let's see if these spoilers are right and just how each performance turns out!
Source: MJsBigBlog