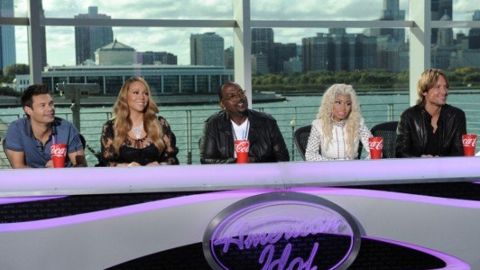 There are more American Idol 2013 spoilers for you to enjoy today. Yesterday we discussed spoilers on the progress in Hollywood Week and what sort of changes were rumored to be seen for the Las Vegas round. Perhaps the biggest news was what production might be doing to the voting and just when America can get involved in that process.
Now we have rumors on which male singers have survived the cuts and made it to the American Idol Season 12 Top 20 Boys circle. If these spoilers are accurate then nine of the twenty male finalists have been near-finalists in recent seasons with eight of those being from last season of American Idol.
Update: TIP has updated the list to eliminate and/or rename a couple of names.
American Idol 2013 Top 20 Boys:
Bryant Tadeo [AI11 HW]
Chris Watson [AI7 HW]
Cortez Shaw [AI11 SFYL/GM]
Curtis "C.J." Finch, Jr. [AI11 LVR]
David Oliver Willis
Elijah Liu [AI11 HW]
Gurpreet "Peter" Singh Sarin
Jimmy Smith
John Jada
Johnny Keyser [AI11 LVR]
Josh Holiday
Joshua Jada Davila
Kevin Harris
Mathenee Treco [AI11 LVR]
Nick Boddington [AI11 LVR]
Scooter _?_
Vincent Powell [AI11 HW]
What do you think of the names on this list? Are you happy to see so many returning singers from last year or should there be all new faces in this crowd?
The Idol Pad is working on building the same Top 20 list for the girls side of the aisle. Once they have a solid list built we'll share those spoilers with you as well.
Source: The Idol Pad