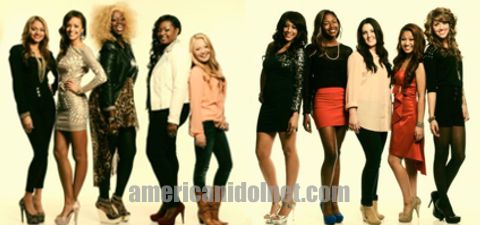 Tonight on American Idol 2013 the Top 10 Girls will take the stage and compete live for your vote. We'll have to wait and see if that's live live or live like last week's episodes that were taped in advance and then presented like they were live.
Each girl will have one chance to impress you, the voters and angle for your vote ahead of Thursday's elimination show where half, yes half, of all the remaining Top 20 singers will be immediately cut and sent home. These singers are not eligible to return next year like those cut during the Las Vegas "Sudden Death" rounds so you better be sure to get out there and support your favorites or this could be the last time we see them for a long time.
Starting tonight you'll be able to "SuperVote" for your favorite American Idol 2013 hopefuls but you better read up on how that works so you've got your phone, online, or Facebook voting system ready to go.
Of course there's always room for a little drama and production manipulation so get ready for a potential twist, according to Nigel Lythgoe. After swearing off any possible wild card runs we're not getting cryptic messages from him that we may in fact still get those. We'll have to wait and see.
Are you ready for tonight's American Idol 2013 episode with the Top 10 Girls? Which lady is your favorite this season? Think she has what it takes to finally overtake the boys and win it all this season?