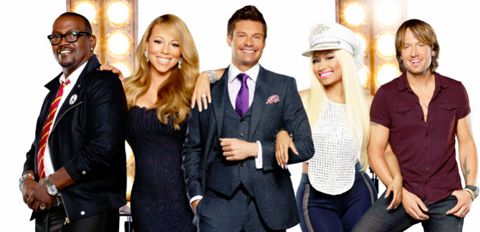 The American Idol 2013 judges are back with a look at this season's Top 20 singers. The interview below starts off with a discussion of what makes an "American Idol Moment" as the judges try define that event but talk turns to the girls versus guys.
Desperate for a girl to win the competition we've been hearing over and over how much better the girls are than the guys. Look, the judges so far have handpicked the Top 20 singers in the race at this point. If either group is so much stronger than the other than it's a case of them failing at the jobs. There could be individual singers across the sexes who stand out but for an entire block to outweigh another entire block looks more like a failure of the judges.
Could a girl win this season? Absolutely. Singers like Angela Miller and Adriana Latonio, but the guys, despite the judges' stance, have their own strengths with the likes of Lazaro Arbos and Burnell Taylor.
As Nicki sadly put it, America will have to decide between strong voices with the girls and big personalities with the guys. That's a little pathetic.