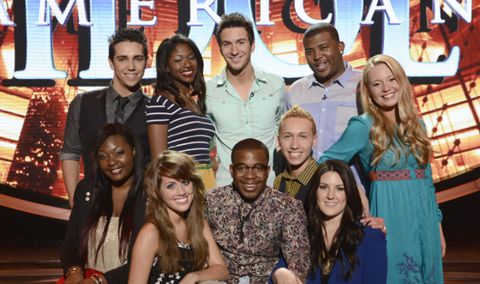 The American Idol 2013 Top 10 takes to the stage this week in the first real round of competition and the week's theme is "Music of the American Idols," which includes songs performed by any past Idol winner.
Now apparently this doesn't mean just mean songs that the winners have put out since winning. Thankfully, because what in the world would one sing from Lee and/or Taylor's songbook? So this means (I think) that the contestants can sing songs performed by winners during their seasons. What a weird theme! This is going to be hard, but I'll go ahead and play along like I do every season. So let me think … what should the Top 10 sing …
American Idol 2013 Top 10 Song Suggestions
Lazaro Arbos, Aint No Sunshine. Season 8 winner Kris Allen performed the Bill Withers classic during week 9 and again in the finale. It seems right up Lazaro's alley.
Janelle Arthur, Jesus Take The Wheel. The Carrie Underwood post-idol hit sounds way too predictable and has been done before, but America will LOVE it. Someone would be kind of dumb to not to this song. I think it would suit Janelle best.
Curtis Finch Jr., I Believe or Summertime. Both were from Fantasia Barrino's third season finale and both are known as two of the most powerful performances in the show's history. He could take on either of these with ease.
Candice Glover, I (Who Have Nothing). This was Jordin Sparks' signature song during season 7. She sang it twice and both times, it was powerful and commanding. Shirley Bassey's version of the song is amazing and it would be nice to hear Candice perform. It might be a bit unknown and risky, though. So maybe she should pick something by Kelly Clarkson.
Kree Harrison, Because of You. When Kelly Clarkson covered her own song as a duet with Reba, she put off this country vibe that fit well with Reba. I think if Kree covered this song with that in mind, it could be a really great performance.
Amber Holcomb, No Air. I don't know why, but when I heard of this theme, I immediately thought of this post-Idol song by Jordin Sparks for Amber. If not No Air, then maybe Battlefield.
Paul Jolley. I can't figure this one out. He loves Carrie Underwood, so he'll likely do something by her. But I don't think I know his style well enough to pin one down for him. Weird. What should Paul sing?
Angie Miller, Always Be My Baby. David Cook did an amazing job with this Mariah Carey song and I think Angie could do her own piano-acoustic version as well. And it would be extra cool because Mariah is now a judge.
Burnell Taylor, You Send Me. Taylor Hicks covered this Sam Cooke song during his season and I think it would be perfectly suited for Burnell's classic sound. I think this would fit well into his unique voice that sometimes reminds me of a 1950s throwback, like the song You Send Me.
Devin Velez, Signed, Sealed, Delivered. Devin is another one I'm having a hard time figuring out. So I basically just went with an Idol standard. This one Ruben sang during Season 2.
Yikes. This was WAY hard. I spent hours on this and I'm still not happy. Way too random of a theme because most song choices are covers by past Idols. So do you consider the original artist or the Idol who picked it? Weird, weird, weird.
What do you think the American Idol contestants should sing this week?