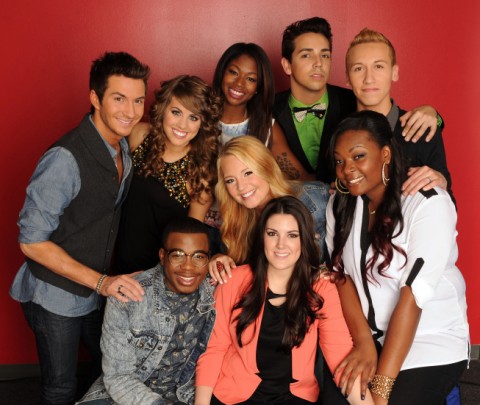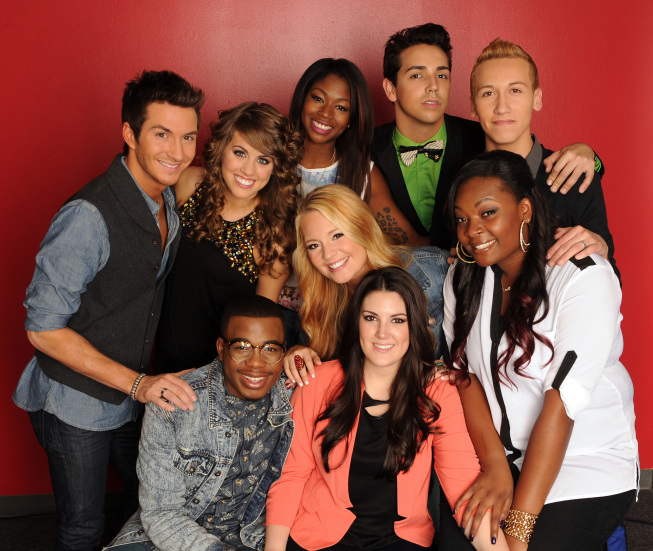 Tonight the American Idol 2013 Top 9 takes on songs from the John Lennon/Paul McCartney songbook. And I'm here once recapping it live!
This is a theme that has been done before, but one can't complain when it's this theme. Let's just hope the contestants dig a little deeper and try to not do the usual songs.
As always, I'll review each performance and assign the letter grade I think each deserves. Please feel free to do your own critiques in our comments section below!
American Idol 2013 Top 9 Performances 
Kree Harrison, With A Little Help From My Friends. Great song choice. I never picked this song for anyone in my song suggestions because I never expected anyone to ever do it. So I'm thrilled she did it. Of course this was more like the Joe Cocker version than the Beatles, which is understandable because it allows her to show how powerful her voice is. Her performance was fantastic. I'm kind of surprised they started with her. They usually save the great ones for later. Grade: A
 Burnell Taylor, Let It Be. I really wanted Burnell to sing Blackbird. Mostly because Let It Be is too predictable. And it just didn't fit right with Burnell's style. I still think he's very talented and unique, though. I just wish he would have gone with another song. Grade: B+
 Amber Holcomb, She's Leaving Home. I didn't love the song choice. I'm glad it's not a predictable Beatles song, but I thought it was kind of boring for Amber. The vocal was good, of course. There was some very powerful moments. And they were balanced out by some sweet and tender ones. Pretty solid. Grade: B+
Lazaro Arbos, In My Life. Wow. If I get any flack for the grade I'm about to give this guy, re-watch the episode and listen to that opening. That might just be the worst singing on Idol since William Hung. And the arrangement was as bad as the vocals. And this is my favorite Beatles songs. This was so bad. Sorry, America. You might like his story, but he's not very good. Grade: F
Candice Glover, Come Together. Not a single person has even come close to picking a song I thought they would/should. I'm a Candice fan, but I have to say I was not looking forward to this song for her. But in the end, I liked seeing an edgier, rock-ish side of Candice. The arrangement, however, was kind of messy. Candice is amazing and can't really do wrong, but this wasn't my favorite performance of hers. Grade: B+
Paul Jolley, Eleanor Rigby. This was better than I thought it was going to be. The beginning vibrato was a bit shaky, but it got better pretty quickly. I think I'd argue that this was Paul's best performance to date. And I wasn't bored for the first time of the night. I don't know why, but I've been bored a lot tonight. What was Nicki talking about? These judges this season are ridiculous. How can I think it's his best and they don't? They were harder on him than they were Lazaro. Grade: A- 
Angie Miller, Yesterday. OK, the vocals were fantastic. But I didn't really get a connection from her. I feel like she was acting in a Broadway show. But I can't deny how great she sounded. And we all know she's poised to win this, so I really don't think I should spend any more time critiquing her. Grade: A-
Devin Velez, The Long And Winding Road. This was definitely won of Devin's best performances. It was so effortless and tender. He's a great singer and I have no idea why he's not registering with fans. Maybe he needs to go more upbeat. Because this wasn't upbeat in the least. But I liked it. Grade: A-
Janelle Arthur, I Will. I admit that I haven't gotten the Janelle love so far, but I liked tonight. I don't the performance warranted the pimp spot, but Idol is very calculated this season. They put her in that spot to boost her votes so that the guys drop some more and one of them is sure to be eliminated again. Grade: B