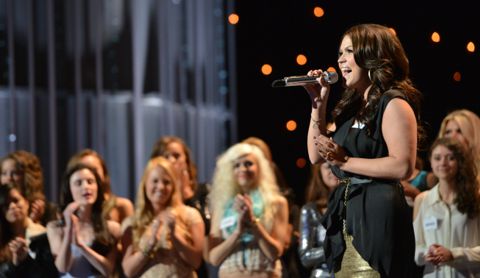 The men are done in Hollywood and now it's time for the women on American Idol 2013. (What is this? Japan?) So here's what's in store this week in the next Hollywood round.
We've got back to back nights of American Idol episodes with another two-hour show on Wednesday followed by a one-hour show on Thursday, according to the American Idol schedule. I'd expect a very similar layout to what we saw last week with a few rounds on Wednesday and the rest on Thursday, but with one major difference. The second night this week will have to squeeze in time for a big round of cuts.
On Thursday night the Top 28 guys from last week will be immediately cut down to the Top 20. Presumably the judges will get the count right for the girls the first time and they'll be able to skip that second round of eliminations. From there we'll be introduced to the American Idol 2013 Top 40.
Of course if you've been following us in the pre-season then you already know the Season 12 Top 40 semi-finalists, don't you? Thank you, Idol spoilers!