American Idol 2014 auditions move to Detroit, Michigan on Wednesday and the talent just keeps getting better. Over 3,500 hopefuls auditioned for season 13 in Detroit back in July, with far fewer making the callbacks with the American Idol 2014 judges last week. However, the singers who did make it through were reportedly some of the best of the season.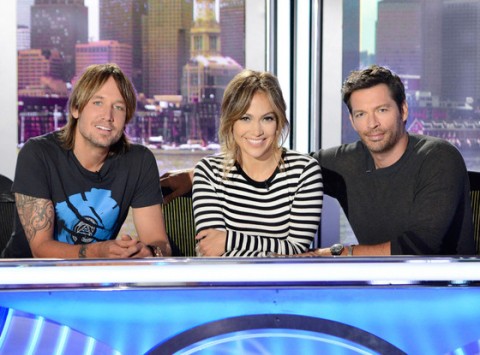 "Lots of good talent here in Michigan," American Idol 13 judge Keith Urban said during a press conference during the Detroit auditions. "Detroit delivered." Returning judge Jennifer Lopez also thought the city delivered on strong talent. "I've got this system where I put a heart around someone who I really think can make the Top 10," Lopez said. "Yesterday I think I had one, today I had six."
One of the auditions that had all three American Idol judges rapt with attention came from 29-year-old Bryan Watt, who performed "So Small" by Carrie Underwood. In fact, Jennifer Lopez was rendered speechless and reduced to non-verbal sounds after Bryan's audition!
American Idol 2014 judge Harry Connick Jr. went even further with his praise, saying he thought "a couple of people are straight away Top 3" from the Detroit callbacks. All of the judges seem to be working hard to really find the best talent for the new season debuting in January. One of those talented singers is 17-year-old Marrialle Sellars, whom we saw briefly on the American Idol 2014 session premiere.
The American Idol auditions in Detroit weren't all work, however. The judges also found time to have some fun. In one silly prank, Keith, Harry and host Ryan Seacrest's seats were all lowered at a press conference about the auditions while Jennifer's was raised up to make her queen of the day. Plus, of course, we have the very expressive faces these judges just seem to love to make during some of the auditions. Case in point, Harry's reaction to the not-so-stellar performance from 19-year-old identical twins Rakita and Karlita Gulledge.
Check out photos from the Detroit American Idol 2014 auditions below! Do you think one of these hopefuls will be the next American Idol winner?
(Click the pics for bigger versions or to scroll through.)