Who is going to win? It's a tough question to ask the American Idol Judges and most times we get a wishy-washy vague response that gives us little insight to what the Judges actually think. This year was a marked improvement over that, but there's still some wiggle room in what the Judges had to say.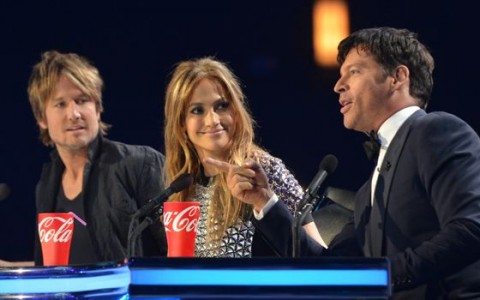 * UPDATE: Find out who won American Idol 2014 in our recap of the final results show!
Last night during the American Idol 2014 finale performances we heard Harry Connick Jr. put the entire panel on the spot after the second round and ask what they all thought. Thank you, Harry!
The judges agreed that Caleb Johnson took the first round with "Dream On," which we called his best of the night, but in the second round it wasn't quite so unanimous. Keith called Round 2 a tie, Jennifer gave it to Jena, and Harry agreed with Jennifer that Jena Irene won the second round.
So when it was all over, did the Judges still feel the same way on how the night went? FOX Audio Central caught up with Harry and Keith with a second take on who won each round.
Harry: I mean I think we were in agreement on the first round. I got confused with the second round.  It's not my first time.  I thought one of Caleb's songs was in the second round.  Apparently it wasn't.  Whatever, anyway.  I think, we said Caleb won the first one right.
Keith: Yeah killed the second round.  For sure.
Harry: It was tight man.  And then they did the originals.
So sounds like they're still giving the first round to Caleb but then the second round gets a little murky. Keith is still feeling stronger about Caleb in the second round than the other judges, but both agree it's a close, close race between them.
Who do the two Judges think won the night overall? Harry goes back to his boxing analogy and Keith has Randy moment in his response:
Harry: It was pretty tight you know because they both had really, really strong nights and it kind of occurred to me tonight that it really is kind of like Ali and Frazer.  You know Caleb really is like a powerhouse puncher and Jena really is more of like a boxer.
Keith: Yeah I think it just comes down to what kind of vocalist do you prefer.  I think that's what it is because they both are killer.  I mean how do you separate the two of them?
Harry: Yeah that's true.
Who do you think won each round and the night overall? Share your opinions below!
Source: FOX Audio Central