The American Idol 2014 Top 30 will be complete this week, but I can't help but look ahead. I tolerate the showl through the audition process and the cuts that follow, but I don't start loving it until around the American Idol Top 10. By then we know who everyone is and we're starting to get a feel of who might actually end up winning the whole thing.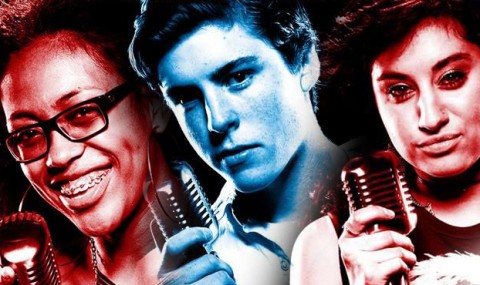 And since I'm very in tune with the Top 30 this season (thanks to better editing), I'm actually comfortable enough to pull out my American Idol 2014 Top 10 favorites. These aren't predictions, but my personal choices on who I'd like to see in the Top 10. It's all for fun.
My American Idol 2014 Top 10
1. Malaya Watson. This girl, hands down, is my favorite. She gets my No. 1 spot with no ifs, ands or buts. I love her voice. I love that she reminds me of a 1950s girl group singer like the amazing Darlene Love. I cannot wait to hear what else she has in store.
2. Ethan Harris. This dude blows my mind. I love his voice and his style and how old his soul seems to be. But I might be in the minority here. Ethan doesn't make it into our Top 20 predictions. But I'm still crossing my fingers!
3.Brandy Neelly. Not only is Brandy from my beloved Louisville, she's just got the it factor. She's a great singer and has great marketability. And her pop/country slant will make her popular among the country music fan audience.
4. Sam Woolf. It's definitely a season for talented guys again. We don't have that obvious push for a female winner like last season, so Sam here joins my ideal Top 10. He's sure to steal the hearts of some female fans, too. I can't wait to watch him try.
5. Jena Asciutto. I like Jena's spunk and her rockish edge. I would (and am obviously) put her ahead of Jessica Meuse since they're of similar genres. And her original song during Hollywood Week was greater than all others. So I hope we get to see a lot more of her. I can't wait to hear some of her song choices.
6. C.J. Harris. C.J.has gotten a lot of airtime and rightly so. He's definitely one of the most talented guys of the season. If he doesn't make it to at least the middle of the competition, it will be a travesty.
7. Briana Oakley. Briana is a very talented girl, but she's been a pretty safe performer. I think there's a lot more in there we haven't seen yet, though, so I'm can't wait for her to break out. I think we'll get some good performances from her.
8. Casey Thrasher. I'm still a bigger fan of this guy's backstory and hard work than I am his actual talent. But that's just a personal thing. I don't see myself rooting for him, but I do think he deserves to be in the Top 10.
9. Jessica Meuse. Like Casey, Jessica is not my favorite. Her Hollywood Week drama left a bad taste in my mouth. But I'm also not going to be the fool that doesn't put her in his Top 10 because I can already tell she's a producer favorite. And I'm not saying she doesn't deserve to be. She's a ready-to-go artist. She's talented, has a look and sound all wrapped up in a package. She just needs the votes. She'll get them too. For how long, I'm not sure.
10. Spencer Lloyd. Speaking of marketability, Spencer has it. But I find him slightly boring. That's why he's at the bottom of my list. But I do see why he would be good for the Top 10. I just hope he doesn't cancel out the more interesting guys like Ethan Harris and Sam Woolf.
Briston Maroney, Majesty York and Kenzie Hall would round out my Top 13, which is where we'll actually start the real competition.
Who would be in your American Idol 2014 Top 10?