Ahead this week on American Idol 2014 the remaining contestants face one of the hardest rounds of cuts: The Green Mile. Before we can get to that there's still more fun ahead as the singers move on from Groups back to Solo performances on Wednesday.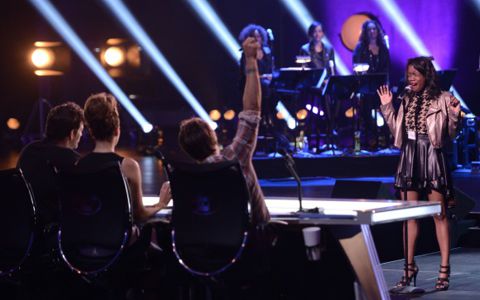 Starting Wednesday, February 11, 2014 at 8PM ET/PT we'll see the group winners take on one last solo shot to impress the judges in this two-hour episode. Each singer will get one performance but they won't be alone like their earlier solos. Instead the contestants will have an American Idol band as backup so get ready for some great performances.
click images to see full-size view
Wrapping up Hollywood Week on Thursday night, American Idol 2014 will feature the stressful "Green Mile" episode starting at 8PM ET/PT with a one-hour episode. Here we'll see Jennifer Lopez, Harry Connick Jr., and Keith Urban sit with each singer and reveal their fate. Our spoilers indicate there should be a surprise when it comes to the Season 13 Top 30. Get ready for a bonus add-on!
We've got the spoiler details on this week's Hollywood events and we'll continue to watch for more leaks and details before live recapping this week's shows.
Be sure to join us on Facebook & Twitter for the latest Idol updates!