Thanks to The Idol Pad we now have even more American Idol spoilers on the Hollywood Week including the new "Hollywood Or Home" twist we shared earlier this month. Originally we knew that once the Golden Ticket holders arrived in California they'd be faced with another round of possible eliminations, but now we know why and how many face the chopping block in this new twist for American Idol XIII.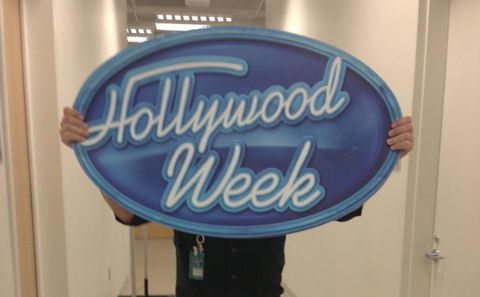 Hollywood Or Home – Round 1:
According to TIP, Idol Hopefuls were herded in to an airplane hangar shortly after arriving and weren't even given the chance to unpack before producers identified which singers were being put on the spot to defend their place in the competition.
Roughly two hundred singers made it to Hollywood and out of that group about sixty of them were pulled aside for this new round called "Hollywood or Home." If they impressed the judges again then they stayed, but if not, then they were sent back home.
How were the singers picked? Those who only received two "yes" votes during their audition were automatically required to participate. Then there were even a few who had all three "yes" votes as well so no one was to be considered safe.
Allegedly very few of the season's final Top 31 participants were pulled aside for this round so the cuts were harsh but apparently a good filtering point for the season.
Solos – Round 2:
Just as we're used to seeing in the past, the surviving Hopefuls perform for the judges with solo a cappella appearances. No surprises here.
Luckily we've got a few exclusive reveals for you on what several of the Hollywood finalists will be performing for their solos. Check out those Hollywood spoilers here!
Groups – Round 3:
Good times for all here as the Hopefuls are forced in to groups largely for our enjoyment and boy oh boy do we enjoy it!
Final Solos – Round 4:
At this point the season will be down to around 80 Hopefuls left in the race. They'll perform a final solo while performing an instrument themselves or working with the Idol house band. Cuts here will drop us to the Top 48.
The Green Mile – Round 5:
Oh the dreaded Green Mile where dreams are made and crushed. The Top 48 Hopefuls are done performing at this point and it's up to the judges to decide. Judges will bring in each of the singers and reveal whether or not they made the cut as the Top 30 is formed.
But wait, instead of a Top 30 there's going to be a Top 31! As was previously revealed the judges couldn't make up their minds between two last Hopefuls: Neco Starr and Ben Briley. So instead the choice is being put to America and will be part of our first round of voting. One will move on to the Top 30 and the other will be sent home just short of the live shows.
Wow! Thanks to TIP for these incredible spoilers and all the details we're able to share here on American Idol XIII Hollywood Week. Are you ready to get to all the fun? We are!
Source: The Idol Pad