We have finally arrived at American Idol finale week for season 13! Who will you choose as the American Idol 2014 winner? Will it be hard rocker Caleb Johnson or Wild Card Jena Irene Ascuitto? Your final chance to cast your votes happens on Tuesday night with the Top 2 performances show!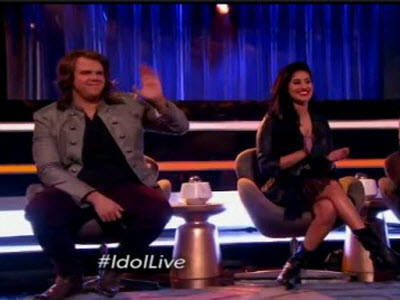 It all comes down to this week's final American Idol performances on Tuesday night, followed by the final American Idol results show on Wednesday. Yes, in case you missed it, the two-part American Idol finale is on Tuesday and Wednesday for this finale week of season 13, NOT on Wednesday and Thursday!
The first part of the American Idol 2014 finale will take place on Tuesday night from 8PM to 9PM ET and feature the finale performances from Top 2 contestants Jena Irene and Caleb Johnson. The American Idol winner for season 14 will be announced on Wednesday night during a huge two-hour event. The last episode will feature performances from the American Idol judges, as well as guest starts such as Paramore, KISS, and John Legend.
Get ready to cast your final votes for who you want to be the next American Idol winner on Tuesday night. Every vote counts, so don't leave your favorite American Idol finalist hanging!