Tonight on American Idol 2014 the season finale's Top 2 finalists perform on the stage in one last bid for your support and votes as they hope to become the winner of Season 13!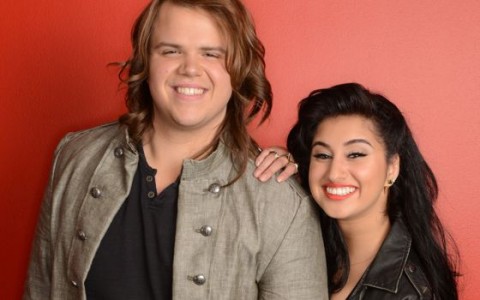 * UPDATE: Watch all of the Top 2 performances in our American Idol recap!
Starting Tuesday on a special night we'll get a one-hour live performance show beginning at 8PM featuring Caleb Johnson and Jena Irene. It'll be a full night of big performances with all the stops pulled out.
So far we know Jena Irene won the coin toss and elected to go first. That means Caleb Johnson will close out the night with what's expected to be a big finish, because what other kind does he do?
The Top 2's performances will include their potential coronation songs, Caleb's is "As Long As You Still Love Me" and Jena's is "We Are One". We'll keep an eye out for more spoilers on the other songs we can expect to hear them sing tonight.
Then on Wednesday night we'll get the American Idol results show season finale starting at 8PM and running until 10:06PM, so adjust your DVRs to avoid missing the big reveal. There will be a ton of guest stars with an impressive list of performers.
Join us tonight for the last performance show and have fun with all the fans here!
click to see full-size view