By all accounts, American Idol season 13 finalists Jena Irene Ascuitto and Caleb Johnson are the best of friends. So for the two of them to end up against each other in the American Idol 2014 finale is both wonderful and awful at the same time.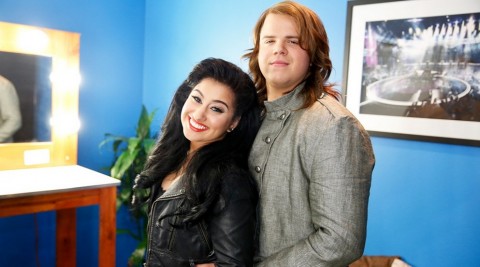 * UPDATE: Watch all of the Top 2 performances in our American Idol recap!
In an interview with Zap2it and a group of reporters after the Top 7 American Idol performance show, Jena Irene said that she and Caleb are "like the same person, except I have boobs and he doesn't. We're like the same person. We have the same personality."
The two are so close, in fact, that Jena Irene actually asked Caleb Johnson to take her to prom — as a friend — if they weren't both swamped with post-American Idol press and promotional duties. Jena said she thought they would have a great time together because he makes her laugh "so much and we have the same since of humor — it's kind of dirty and twisted. It would be a fun night."
Caleb Johnson may have recently told reporters that they just "really don't care who wins," you know it has to be difficult to go up against a close friend in the American Idol finale with so much on the line. Although they both certainly have to be happy that their best buddy has made it to the end, it's going to hurt when one of those friends beats out the other in the final vote.
Still, we think these two will remain lifelong friends long after the American Idol finale battle is over. Just take a look how much fun they are obviously having in the picss from this week's photo shoot! You can tell these two just adore each other.