In a surprising move that left many fans stunned last night on American Idol the Judges brought back in eliminated contestant Maddie Walker for a sing off against Rachel Hallack who had been slated to earn a Top 24 spot.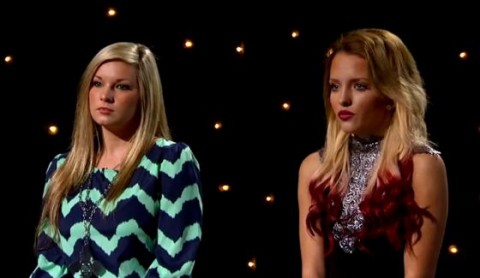 After Maddie was eliminated we knew something was up since she had been part of our Top 24 spoilers list for quite awhile now, but we did not see this next move coming. The Judges immediately started discussing if sending Maddie Walker home was the right choice and how similar they thought she was to Rachel Hallack.
Soon both ladies were standing next to each other in front of the Judges who explained this was not planned or expected, but they'd need to face off in a singing duel where one of them would head to America's Vote and the other would go home to watch it.
Maddie Walker went first with Kellie Pickler's "Red High Heels" while Rachel Hallack followed with Dusty Springfield's "Son of a Preacher Man." The pressure seemed to weigh more heavily on Rachel as her performance wasn't up to her usual standard and that may have been enough to seal her fate.
Once both were finished singing the Judges announced their decision: Rachel Hallack was sent home while Maddie Walker would live to sing another day on American Idol 2015.
The method of deciding this elimination seemed to frustrate many of our readers on Facebook and there was a lot of talk about whether or not it was the right way for this to play out. It almost reminds me of the cruel bus ride to the airport from last season of American Idol, but this time it was just impacting one singer.
What do you think of the Maddie vs Rachel sing-off and the way the Judges played it out? Do you believe it was fair or even impromptu as the Judges suggested? Vote in our poll and share your thoughts below.