The two-night American Idol 2015 premiere kicks off tonight in Nashville with American Idol judges Harry Connick Jr., Keith Urban, and Jennifer Lopez on the hunt for the best talent in Music City.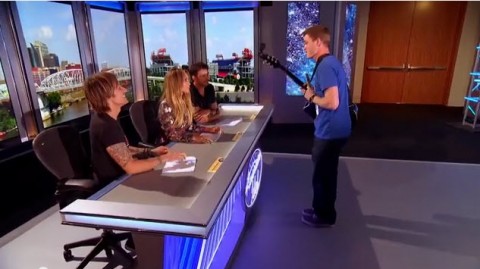 Singers from all over the country swarmed to the American Idol auditions last summer in hope of grabbing one of those precious Golden Tickets to Hollywood, but only a small few will make it through!
Producers have reportedly changed things up for this year's American Idol premiere auditions rounds, giving more time to each hopeful and their stories, and shoving less performances into each episode.
We'll also be getting a bit more personal with American Idol judges Keith Urban, Harry Connick Jr., and Jennifer Lopez. Of the three, it sounds like Harry is going to be the hard to please one again this year, saying no on a number of American Idol season 14 hopefuls that Keith and J-Lo want to give a Golden Ticket.
Our live American Idol 2015 premiere recap kicks off right now with all the details from the first round of auditions in Nashville! Plus, you can join our live American Idol chat (pop-up window) right now and talk about the show with your fellow Idol fans!
And here we go! It's an American Idol first, we're going to hear the Top 24 before we even get to see them. They come on the stage in the dark, covered in shadows with their faces hidden. Like we won't recognize them in the auditions anyway by their voices, their hair, and their body shapes. They are all singing a medley of "Feeling Good" by Nina Simone. Lots of strong voices, wrapped up with what sounds like a Caleb light guy at the end.
Seventeen cities and thousands of online submissions, plus the American Idol judges take the auditions to their home cities of Nashville, New Orleans, and New York. All to get it down to just a few hundred to receive a Golden Ticket to Hollywood.
As usual, we get the mass auditions cut together with the judges' round auditions like they happened at the same time. They don't. First they have thousands in a mass audition, and then months later, the ones selected to see the judges are called back in a much smaller affair. But that isn't as much fun visually.
First up tonight is 17-year-old Riley Bria, who got the chance to play guitar with Keith Urban at an awards ceremony a few years back. He sings Keith Urban's "Georgia Woods" and he's really like a cute little Keith Urban minature, with almost even the same haircut in blonde. Three big yes votes from the American Idol Judges!
Back from break and we have chatter from some of the contestants all about how hot Keith Urban is. Which transitions into our next audition of the night, from small town girl with a guitar, 19-year-old Priscilla Barker (she made it to HW in 2014). She has like a dozen brothers or something. The American Idol Judges tease her over her heavy country accent when she talks about her "Diddy" who couldn't come.
She's singing "Delta Dawn" by Tanya Tucker. J-Lo can't stop commenting about what parts of the song is like her and not. After the audition, she has to talk about how her Mom once touched Keith Urban at a concert. Harry Connick Jr. gives a yes, J-Lo gives a no, Keith gives a yes so she'll have a second chance to prove herself. Her mom gets to come in and hug Keith, which is cute.
Now we have 25-year-old  Cameron Bedell with "You are the Best Thing" by Ray LaMontagne and he has a sweet, soulful voice but he isn't the most original thing I've heard. He just sounds like a lot of other similar singers we've seen before. Harry talks about how even though the guy had his eyes closed the whole time, he didn't mind cause he was so into it. Keith Urban says he wants to play with him, and it sounds a bit wrong. Three yes votes from all three judges.
Welcome back after another break and we have more American Idol judges love from the contestants — and their parents. There is a lot of singing going on behind the judges' table this year. One contestant actually thought it was still Nicki Minaj and Mariah Carey going to be doing the judging. We think maybe she isn't going to get through. She gets rapidly corrected from everyone.
Then we have some random auditions, not so great auditions from various folks. Although they are more funny this year than cruel, which is a nice change. Keith Urban sits in Harry's lap and freaks out because something pokes him in the butt… thankfully it is just his phone.
Finally we move on to another serious audition with 15-year-old, pink-haired Amber Walker, who comes from a rough background and uses songwriting and singing as an escape that gives her hope. She sings "Heartbreak Hotel" by Elvis, accompanied by American Idol Associate Music Director Michael Orland on the piano. J-Lo says yes immediately for a great performance. Harry likes Amber, but thinks she needs more time to get her vocals together, so he says no. Keith is the deciding vote and he gives her a Golden Ticket.
Now we have a bit of a behind-the-scenes of the mass auditions where the singers audition for American Idol staff before they ever see the judges. There we meet a quirky, tall, red-haired hopeful named Kyle Blaine Corman, 24, from Statet Island who seems to have trouble thinking of what to say in front of a camera. He'd much rather sing.
He runs in and jumps on the stage and says he is ready to rock! He works in produce and stacks out vegetables but he hates little old ladies that always want to touch his hair. Which prompts Harry to get up and touch Kyle's hair in a magical, slow-motion moment… and then he asks for Purell. Kyle sings "Give a Little Bit" by the Goo Goo Dolls. Kyle doesn't make it pass the judges despite trying to sing another song over their critique. They dismiss him abruptly. He says he lost his voice and tried to cover it with energy and failed. He wasn't horrible, but he wasn't crazy good.
Then we have a bunch more failed auditions, including tears from contestants and their parents. Thankfully, we move rapidly along to a commercial to get away from the crying.
Back again and we have a bit from Keith Urban about his love of Nashville, where he has lived (part-time) for 22 years and his two daughters with actress Nicole Kidman were born. Then we switch over to barista Kory Wheeler, 26, who works literally across the street from the audition venue. He sings "I Can't Make You Love Me" by Bonnie Rait. He's cute and has a sweet voice. Very likable but I wanted to hear a bit more oomph and emotive quality out of him. The American Idol judges seem to love him though, and he's got three yes votes through to Hollywood. J-Lo gets "goosies" on her legs even.
Now we have 20-year-old Michael Simeon, who we saw in earlier previews asked to dance with Jennifer Lopez after he wins his Golden Ticket. Before that, however, he sings "Stay With Me" by Sam Smith. He has a smooth and somewhat unexpected voice, and the judges are all over it. He's a three yes Golden Ticket winner and he gets that dance with J-Lo while Keith accompanies on the guitar, and Harry plays the piano. Harry says he was feeling a bit jealous over such a lovely moment. J-Lo lets fly her first F-Bomb on TV (appropriately censored) when she says she is a great girlfriend, and wife, she just picks the wrong f–king guys.
Next up is Emily Brooke, 15, a sweetheart of a girl with a golden voice. She gigged up enough money to save to take the trip to the American Idol auditions. She sings "Blown Away" by Carrie Underwood and you know she's going to go through. She's my favorite of the night. Real talent, sweet guitar player, killer voice, great look. She rocks. J-Lo says Emily is pretty great and she did a really good job with a tough song. Keith loved it with a huge grin and Harry thinks Emily is cool. All three judges give her a big happy yes and she has the last Golden Ticket to Hollywood for the night!
Join us tomorrow night for more from the American Idol 2015 Nashville auditions in the second half of the season 14 premiere!