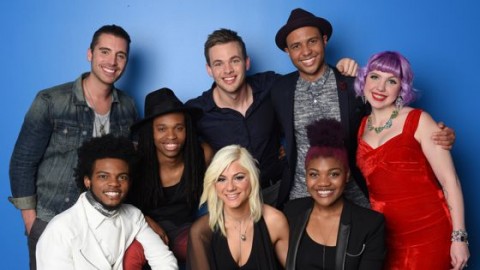 American Idol 2015 continues to make my job difficult by leaking the songs before I ever have a chance to make recommendations. But this week they went a step further and only leaked the songs, leaving us to guess who is doing what.
We've already found out what Jax is singing and possibly what Joey is singing, so let's play a little guessing game for the rest of the choices!
Poker Face by Lady Gaga. Jax has spoiled this one by tweeting she's doing Lady Gaga. This should be interesting. I bet she slows it down and makes it her own. She never just impersonates an artist, so expect this to be different than the version we're used to.
Wrecking Ball by Miley Cyrus. Everyone is claiming this one for Joey. So we will see. I don't like this song choice for her, but she'll surely change it up and make it weird and America will love it while I hate it.
Hey Ya by OutKast. My guess would be Qaasim for this one. But I don't think we'll be hearing him sing it. Unless of course they're doing that Idol save again. So yeah, I've said it. I think Qaasim will be heading home this week.
Make it Rain by Ed Sheeran. If this isn't Clark's song, I'll be shocked. As we know, he can singing anything, so any of these songs could be his. But this one really suits him. I think he could really have another perfect performance with his version of this song.
Stay by Rihanna. I think it's time for Tyanna to slow things down and have one of those Idol moments everyone talks about, so I think this could be her song choice. And if so, it's a good one for her.
Teenage Dream by Katy Perry. Nick teased that he's doing something unexpected and I've heard a band Nick is close to do a cover of this, so I'm guessing this is Nick's choice. And it would definitely be unexpected, so I'm pretty confident in my guess.
Latch by Disclosure (ft Sam Smith). I'm pretty certain this will be Quentin's pick. He teased that he's doing Europop, so this would be the song. And I think if he handles it right, it could actually be a great performance.
Set Fire to the Rain by Adele. I don't really like this song choice for Rayvon, but he's the only one left and this is the only song left. Ha! But I guess I could see him doing this. The more I think about it, though, the more I think maybe Rayvon is doing Teenage Dream and Nick is doing Set Fire to the Rain. Aaaaah! I don't know! What do you think?
What songs do you think the American Idol 2015 Top 8 have chosen to perform this week?