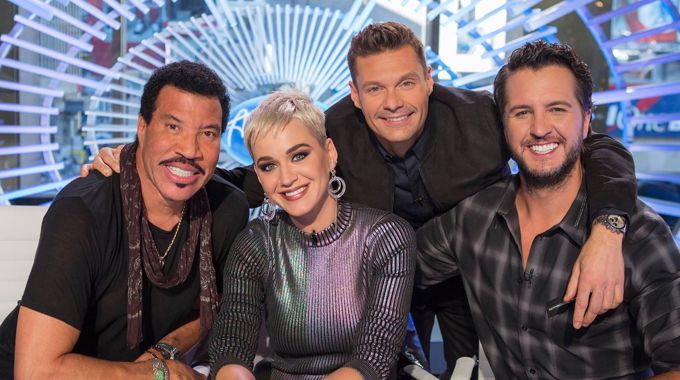 American Idol judges came together this week and kicked off 2018's search for the next Idol winner of Season 16! Ryan Seacrest hosted the revival's events while news judges Katy Perry, Lionel Richie, and Luke Bryan were on hand to deliver those coveted Golden Tickets.
Things kicked off Tuesday in New York City as the new judges, revealed just in time for the launch of auditions, were gathered and ready to start sending Hopefuls off to Hollywood. It's kinda crazy to see things back so soon and to be talking about tickets to Hollywood, but here we are!
ABC, the new network for American Idol, was doing their push again this morning for the series with a plug on Good Morning America. We can probably expect a lot more of that now that Idol is on a channel with a national morning show.
As for the judges, all the behind the scenes clips we're seeing takes us right back to the good ol' days of Idol with Ryan talking up the cameras and the judges having a good time meeting the country's talent. The real test of course will be when it all comes together with new episodes of American Idol 2018. Can't wait, but until then we need some auditions!
Watch: American Idol 2018 Judges talk auditions
The set up looks pretty familiar and not too much has changed, but there are the usual tweaks to the judges' desk and the background halos look new.
.@LionelRichie, @KatyPerry and @LukeBryanOnline are on break, so I'm on seat warming duty #thenextidol pic.twitter.com/0D3ST0aCuK

— Ryan Seacrest (@RyanSeacrest) October 4, 2017
As Tuesday's auditions wrapped up, host Ryan Seacrest gave us a quick behind the scenes look while one Hopeful was possibly in the audition room performing for the new judges. Check out that shiny Golden Ticket!
That's a wrap on day 1! Feels good to be home 🙂 @lionelrichie @katyperry @lukebryanonline #thenextidol pic.twitter.com/lBmEiphE3o

— Ryan Seacrest (@RyanSeacrest) October 4, 2017