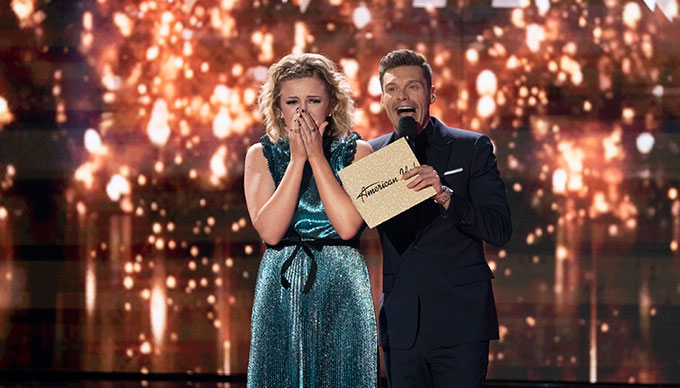 Last night on American Idol 2018 Iowa singer-songwriter Maddie Poppe was named the winner of the first season on ABC. Country singer Caleb Lee Hutchinson finished as the runner up, making this the first time a female has beaten a male at the end since Jordin Sparks beat Blake Lewis is Season 6. Pittsburgh's Gabby Barrett finished in third place.
Aside from the announcement of the winner, the other big moment of the night came when Caleb and Maddie were about to sing a duet of "Somewhere Over the Rainbow." "She's my girlfriend," Caleb coyly admitted, leaving the audience and judges (and likely America) stunned at the news. So the two finalists of American Idol 2018 are officially a couple. This whole outcome has to be a win-win for them, not to mention Ryan Seacrest had just presented them both with a trip to Hawaii. I guess ABC doesn't want to spring for two brand new cars like Fox did. Lame, ABC, lame.
The American Idol finale night also included the rest of the season's Top 10, a few contestants from earlier in the season, Kermit the Frog, an Alpaca, other special guest stars, and even Sanjaya from Season 6 of American Idol and the famed "crying girl" who was his biggest fan at the time. She's much older now and Sanjaya has a lot less hair.
It was quite the night of twists and turns and we've got all of the events captured in our finale photo gallery below. Be sure to check it out.
American Idol 2018 Grand Finale Photo Gallery
What did you think of the American Idol 2018 finale? What were your favorite moments and performances from the night? Were you happy with the final outcome with Maddie Poppe as the winner and Caleb Lee Hutchinson as the runner up? Let us know all of your thoughts.