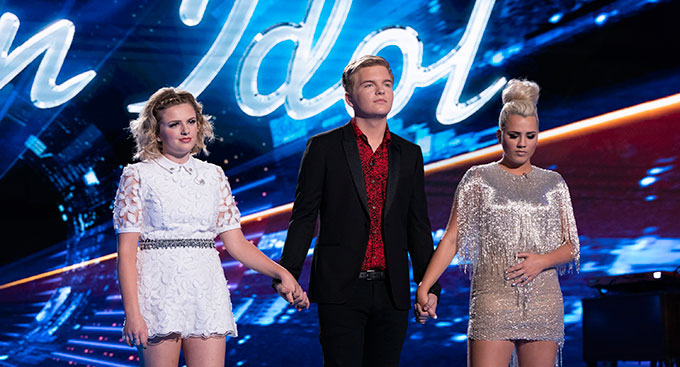 It all comes down to this. Ryan Seacrest is about to announce who won American Idol 2018. Is it country/pop hybrid Gabby Barrett, singer-songwriter Maddie Poppe or country singer Caleb Lee Hutchinson?
Before we get to the Idol results, we've got two hours of performances from the Top 3, members of the Top 10, the judges (Katy Perry, Luke Bryan and Lionel Richie), Patti LaBelle, Bebe Rexha, Darius Rucker, Gary Clark Jr., Kermit the Frog and more.
While we wait to find out who wins American Idol 2018, let's discuss who could win. We have already made our predictions that Maddie Poppe could actually win this thing if America strays from it's typical voting criteria. If they stick to it as they have in many many seasons, Caleb Lee Hutchinson, the male contestant, will win. But let's not count Gabby Barrett out either. She's been a frontrunner all season and has only began to slip in the past couple of weeks. Her fans could have come back out for the finale and voted her to a win. Our readers have also picked Maddie as the person who should win American Idol. Maddie earned an overwhelming 73 percent of the vote in that poll. I think it's anyone's game, really. We've all seen the most popular contestant lose in the past, so don't be surprised by any of the three winning this.
Alright, dim the lights and let's get to the results!
American Idol Results
American Idol 2018 Top 2:
Caleb Lee Hutchinson
Maddie Poppe
American Idol 2018 Winner:
Runner up:
3rd Place:
What do you think of the results? Did American get it right? Did your favorite win Idol?
And just because the season is over doesn't mean our coverage is! There's more to discover and discuss so stick with us on Facebook, Twitter, and by Email Updates for even more American Idol.