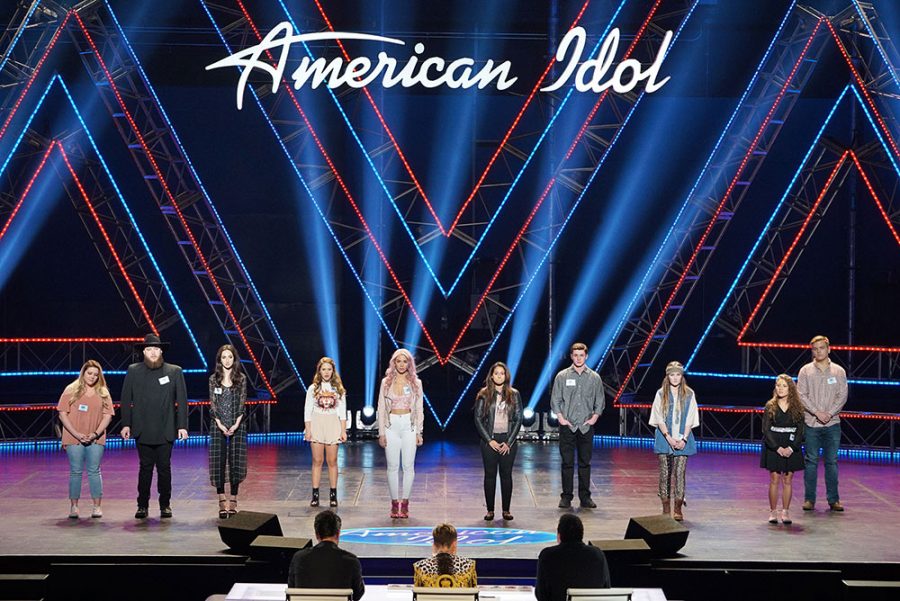 Sunday night was the last of the auditions, so it's time for American Idol 2018 Hollywood Week to get under way! As any American Idol fan knows, this round of the competition is also known as "Hell Week." It's the moment that will make or break some of the best contenders we've seen featured previously in the audition episodes. This is where we will see a lot of those people the judges said could actually win the season go home. And we will see a lot of people everyone was on the fence about break out and make it to the finals. It's a crazy and exciting ride, and we're here with you for the whole two-hour episode tonight. So don't go anywhere.
During Hollywood Week, the judges still hold all the power, so we'll be seeing the contestants perform American Idol-approved songs in the dreaded dramatic group rounds and then songs of the contestants' choices in the solo rounds. Those who make it through tonight head onto the showcase rounds next week.
So let's head to the Dolby Theater in Los Angeles and join judges Lionel Richie, Katy Perry and Luke Bryan as the Idol hopefuls sing for their lives during Hollywood Week!
Layla Spring,16, from Kentucky is up first. Her audition was sweet and innocent, and everyone seemed to enjoy it. She is followed by 15-year-old Alyssa Raghu. Her version of "Wind Beneath My Wings" wasn't even half as good as her initial audition.
Trevor McBane follows the two girls with a raspy and raw audition that left Katy in smiles. He is followed by country boy Caleb Lee Hutchinson. His version of "Don't Close Your Eyes" by Keith Whitley was rich and emotional and pretty much perfect as far as country goes.
It's time for the first results. Trevor, Alyssa, Layla and Caleb all advance. Six others already head home.
Noah Davis leads the next group of 10 to take the Hollywood stage. This time wasn't as great as his original audition, but it was still pretty solid and entertaining. He's an entertainer.
The Sposato twins are up next. Milo Sposato's performance was a but weird and disconnected. Julian Sposato's isn't much better. These guys were definitely better when they had their instruments during auditions.
It's time for the second round of results. Noah and Milio move on. Julian gets cut. Harsh.
Kenedee Rittenhouse, Joshua Ward and Kristyn Harris are all eliminated in a friend segment.
Catie Turner has a weird performance of "Come Together" and I hated it. But I know I'm going to be alone here. It really made me want to jump out my one-story window. Her obvious crush Zach D'Onofrio, the crooner who danced with Katy Perry, is up next. And while his first audition seemed legit, this one seemed kind of like a gag.
Catie moves on to the group rounds, but Zach goes home. Also advancing with Catie is also my favorite auditioner Brandon Elder.
Maddie Poppe is up next and she pulls out an amazing performance. It felt a lot like it was her own private concert. She was that confident and good. Cade Foehner is the next up on the stage. His raspy and heartfelt audition shows that not every great singer was highlighted during the audition rounds. Cade and Maddie both move on to the next round.
It's Jonny Brenns turn to wow the judges. And he does. HIs performance was flawless. He's got so much talent that it's hard to imagine his family haven't taken it seriously. Maybe they will now. Jonny advances, as does Effie Passero.
Jurnee and Dennis Lorenzo both take the stage next and continue to impress. The judges moves them onto the group rounds.
Trevor Holmes and all his charm is up next, and it's not quite as good as first time around, but he makes it to the next round.
David Francisco, who had one of the most touching backstories and auditions, is up. And like Trevor, it wasn't as good as his audition, but he's such a natural musician, he's easy to listen to regardless of his pitch and tone. But the judges decide this is it for his current American Idol journey.
Oh no! Now it's time for things to get crazy. It's group rounds time.
Group "God's Diversity" is the first group of the day. Michael J. Woodard kicked it off and he's got such a fin and natural voice. Shannon O'Hara's part was a little shaky. Kourtney Smith's was powerful. They all move on to the next round.
"The Gurope" is the next group up. Maddie Zahm and Marcio Donaldson are the standouts in this group, but they struggled a bit as a group. Marcio and Maddie make it to the next round.
The next group up is "Taco!" Catie Turner and Alyssa Raghu made it through to the next round.
More audition standouts cut during the group round were Johnny White, Rissa Watson and Samuel Swanson.
Superdope Hotness is up next on the stage and Milo Sposato and his momager (there's always at least one) brought some drama to the group, and it ended up effecting the group, in a positive way. The entire group moves on, including standout Dennis Lorenzo.
Ada Vox's group "DNA" stood out, giving her entire group a shot at the next round. Another group, including Gabby Barrett, also all moved on. Jurnee and Dominique also got passes to the next round.
The Soul 4's, including auditions standout Laine Hardy, kind of flopped because the group didn't really mesh well. Laine still managed to make it on to the next round.
The final group "Don't Touch" is closing out the night. The group is made up of audition standouts Britney Holmes, Lee Vasi, Gabbii Jones and Crystal Alicea. And it's definitely a mixed bag. Some of them do a really good job but some not so much.
Katy tells them there's only room for three people. So one has to get cut. And she asks for one of them to volunteer. Crystal steps up, but then Katy says JK, you're all through to the next round.
If you don't want to wait to see who makes it into the American Idol Season 16 Top 24 or even the Top 14, we've got those ready for you all ready. We plan to have American Idol Spoilers all season for you. Check them out at your own risk, but you might be surprised at what you see! We'll also be giving you news, updates, recaps, rankings, videos and much more throughout the American Idol 2018 season, so be sure to stick with us here and on Facebook and Twitter.