American Idol auditions continue tonight from Salt Lake City, Utah and we have an amazing collection of talent to look forward to. We don't need American Idol spoilers to tell us the singers will be hot tonight, all we had to do was watch the previews! We are betting American Idol judges Harry Connick Jr., Keith Urban and Jennifer Lopez will have their hands full handing out Golden Tickets tonight based on what we've seen.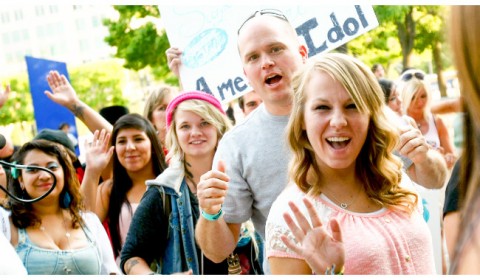 One of the standout singers we have on tap for the American Idol 2014 auditions tonight include 20 year old student Alex Preston, who dares to sing an original song. We saw part of his performance in previews for the Salt Lake City auditions, but can't wait to see what the judges have to say.
Another hopeful we are really looking forward to this evening is 16 year old Kenzie Hall, who we think may be one of the strongest girls so far this season. From the bit of her audition we saw in the promos for Wednesday, we think she's definitely going to be earning a Golden Ticket.
What other amazing talent will emerge in our American Idol recap from the Salt Lake City auditions? Let's get started and find out!
Quite a dramatic opening tonight with dad Casey Thrasher watching American Idol from last season, dreaming of making it big and giving a new life to his baby girl. A reenactment meant to pull on the heartstrings, for csure!
One of our buddies in the chat room remarked that he "thought FOX was playing the wrong thing with that intro that looked like a drama show!" We kind of have to agree. Tone it down a bit FOX, we're here for the music, not Downtown Abbey!
We have a bit of play time with the American Idol judges before we move on to our first audition of the evening from 16 year old Austin Wolfe. The judges are loving her name, first of all, and then they are loving her voice even more — despite her performance of an already overdone song, "Radioactive" by Imagine Dragons. It's an easy three yes votes for this stellar singer Harry compares to Hayley Williams.
Now we have a fast montage of four singers in a row, which drives any recapper just nuts. Included in the package are lumberjack Kylee Adamson, 18; guitar player Keith Sanders, 26; another guitar player Michael Simeon, 19; and R&B singer Tessa Norman, 19.
Alex Preston, 20, is a band geek who decided to take a year off college to try to prepare and succeed at getting on American Idol. He dares to sing an original song for the judges and he is, quite simply, stellar! One of the best guys yet this season in our opinion. No way they aren't giving him a Golden Ticket and he's through to Hollywood.
Up next we have Samantha Calmes, 25, who starts off like she might be one of those "bad" auditions, especially since she is sporting a fanny pack and dressed like a hobo. But no, it turns out she actually has an interesting voice. Her song choices are a bit oddball with a funny original followed by "Movin' On Up" from The Jeffersons. Even so, the judges are liking her a lot and she has all the votes to go to HOllywood.
Here is another group of hopefuls along with a segment about how the American Idol bus toured around the country to find talent in small town America.
Included in this batch are country singer Laurel Wright, 18; preacher Lebryant Crew, 24; and D. J. Bradley, 20.
We feel bad for the last guy, D. J., because he just made a very bad song choice by doing "Hometown Glory" by Adele. The judges agree that D. J. didn't give his best with that song, but he might have potential. So they decide to give him and the rest Golden Tickets to the next round.
We zoom through another audition from a girl who is unfortunately named Julie Offill (like awful). Yes, that is her name. Not the best moniker we can think of for someone who wants to be a singer. However, Julie proves to not be actually awful, although Keith thinks she needs to work on her confidence. The judges decide to give her a chance and a Golden Ticket.
Now up is Kenzie Hall, who we thought looked really good in the previews for tonight's show. She's nervous but once she gets going, she's amazing and really sounds fabulous for being just 16. We can't wait to see more from this girl.
We can tell you from personal experience that Paisley Van Patten's family is ALL about the support. They've made sure we have all the info on her before she was even seen on air! She does have a lovely country voice and her performance is very nice (as was her Cher impression), even if we could do without the whole sob story of her losing her recording deal because of her drinking.
Some more random auditions both yes and no votes fly by but they are too quick for us to catch much to share. In the group we had a no for Haydn Olsen, 15; a no for Chase Boyle, 23; a hell no for Missy Cyclops; a yes for Jocelyn Baker, 18; and a yes for Blake Branscon, 18.
Moving on, we have C. J. Harris, who talks about his dad dying last year from a heart attack. Sob story aside, C. J. has a nice voice, although we wouldn't consider him one of the best of the night. The judges decide to give him a chance and send him on to Hollywood.
We're now on day two in Salt Lake City and the next hopeful is Tiquila Wilson, 24, who bounces into the room like a wild child. She has a good voice, but it's a bit screechy. The judges like her probably a bit more than we do and decide to give her a Golden Ticket.
Male model Chase Thornton does not fare so well with the judges because he can't sing worth a damn. Seriously, he is terrible. He's not even that cute either! The judges are not feeling this guy at all and he's going home with nothing.
We flip through a few more bad auditions and one we thought was actually quite good from Jessica Bassett, 22. We think she should have gone through and most of those in our chat room agree!
Next we have a montage about the American Idol judges and their journey up the ladder. Then it's on to our next contestant with the lovely Emily Rottler. We're digging her indie voice and so are the judges. It's a quick yes all the way around and she's headed to Hollywood.
Dexter Roberts, 22, trains dogs and runs the Bang Bang, Flop Flop dog kennels. Keith thinks that is a perfect description of Harry's concerts. The judges really like his Casey James song, but we are a little more iffy about it. He might impress us in Hollywood though, which is where the judges decide to send him.
Ally Roundy, 18, gives us a brief audition with "At Last" by Etta James. The judges aren't sure about this one and have a split decision. We think she was just too weak to go through and Keith and Harry agree. J-Lo liked her, but she gets overruled and it is a no vote.
We are loving 15 year old Briston Maroney and his gorgeous, interesting voice. Jennifer thinks he is unique and Harry wants to know where all these people are coming from that can sing so good at such a young age. Needless to say, Briston earns a Golden Ticket and we hope he does well in the next round.
Another group of auditions with the oddly named Fish, 19; Carson Henline, 16; and Sabrina Lentini, 15. So many teenagers this season it feels like! Fish goes to Hollywood and it gets CRAZY when he runs outside to celebrate.
 Johnny Newcomb, 16, performs "Last Kiss" by Pearl Jam for the judges and it just doesn't sound real. Harry thinks he is faking his voice to try to sound like the original. They want him to sing something else and he does "If It Hadn't Been For Love" by The Steeldivers. This one is not so bad and the judges are feeling it a lot more. A bit of debate, Harry still says no… but J-Lo and Keith say yes.
It's a big fail for the next audition of Kimberly Tosti, 25, who should have never, ever tried to sing "Barracuda" by Heart like that. She is so loud, the judges think she should maybe try doing some opera instead.
Carmen Delgina, 24, has big shoes to fill. She's the daughter of Wonder Mike from The Sugarhill Gang and wants to prove she can be an entertainer too. She does a passable job with "Tainted Love" but it isn't tremendous. Still, the judges decide to pass her through in hopes she'll come back roaring in Hollywood.
Despite weirding out J-Lo by giving the American Idol judge her uncle's phone number, Kassandra Castaneda manages to earn a Golden Ticket with her performance of yet another Adele song. We think it may be time to ban Adele from future episodes… Kassandra is a bit wobbly in our opinion, but Jennifer and Keith think she has potential.
Kenneth Woody Gaddie, 28, is one of our oldest conestants this season and he has a smooth, classic style with his performance of "Swing Low, Sweet Chariot." We don't think he'll make it past Hollywood Week because he just doesn't really stand out, but the judges at least give him the gift of a Golden Ticket to try.
Last, but not least, we finally return to father of two Casey Thrasher, 22. Casey lives with his aunt and tours around to pay the bills for his  kids. Casey performs "Believe" by Brooks & Dunn and he has a sweet country voice to go along with his good guy image. The audition isn't stunning, but Casey makes a nice package and the judges decide he is Hollywood bound.
There were 30 Golden Ticket Winners from Salt Lake City, which brings up to a total of 193 so far this season.
>> NEXT: American Idol 2014: Omaha Auditions Performances Live Recap [VIDEOS]