Did you know American Idol 2014 finalists Dexter Roberts and CJ Harris met long before they ever appeared on the show? The two have actually been friends for half a decade, bonding over their love of music over the years.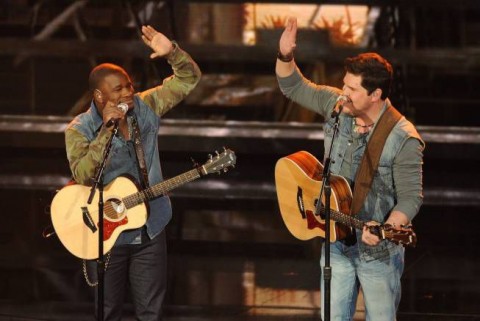 When CJ Harris and Dexter Roberts sang a duet of "Alirght" by Darius Rucker recently on American Idol season 13, it wasn't the first time they'd performed the song together. The two singers originally got together on the song back home in Alabama, where they live relatively close to each other. CJ is from Jasper, AL, and Dexter is less than an hour away in Fayette, AL.
"We've been friends for about five years," Dexter told reporters during a post-show interview, according to People. "We performed our duet [first] back at home."
Dexter and CJ met while they were both on spring break in Panama City, FL. "I met him on the beach," Dexter said. "I was playing the guitar and he just walked up and asked to play with me."
Neither of the friends told the other one they were going to audition for American Idol 2014. They just assumed the other person would show up and try out. The two quickly found out they were indeed both there, which happened to be a lucky thing for CJ. He broke a guitar string before his audition and had to borrow Dexter's guitar to perform.
No matter who wins American Idol 2014, Dexter Roberts and CJ Harris plan to stay tight as friends and musicians. They are thrilled they will get to tour together this summer, and hope to record an album together someday.