American Idol Top 2 Caleb Johnson and Jena Irene Ascuitto are ready to rock tonight on part one of the season 13 finale! In an interview before the American Idol performances show on Tuesday, Jena said it is going to be a "good, good competition this week," while Caleb promised it is going to be a "bada$$ show people!"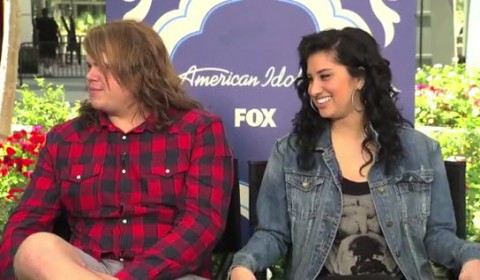 * UPDATE: Watch all of the Top 2 performances in our American Idol recap!
Some fans have noted this is kind of the first time we've ever had two 'rockers' in the American Idol finale against each other. Although we think Jena leans more towards pop/rock than true rock n' roll, while Caleb is hardcore rock all the way even when he is singing a pop song! So we have to agree with Jena when she talks about how they may both be called 'rockers' — but they are really very little alike.
"Even though people say that we're both rockers, I think we're different in terms of the way we perform, the way we sing, and the styles of music we like," Jena Irene said in the American Idol finale interview with her and Caleb Johnson. "So I think that kind of differentiates which audiences like to listen to us and that are going to vote for us." Caleb agreed.
Whichever one of them comes out on top in the American Idol season 13 finale tomorrow night, Caleb Johnson said they have learned so much from the experience. "Every day I think we're learning something new about every facet of the entertainment industry, performances, and singing, and interacting with the audience, and all this good stuff and I think that… I have absolutely no regrets at all."
Jena and Caleb are both ready to rock it out tonight in their very different styles, and the viewers will be the ones who decide which one they like best. So be sure to tune in with us tonight for all the action and get those votes in for your favorite to win on Wednesday night!