Who will win American Idol 2016 tonight when the lights are dimmed one last time on FOX? It's time to make our American Idol predictions and settle in for the big reveal later tonight.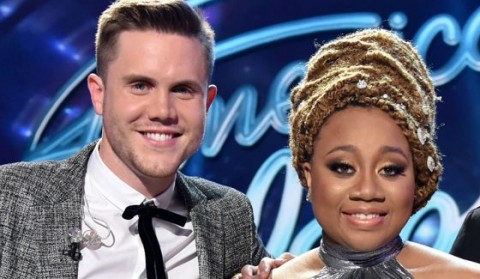 There's nothing easy about the choice between Trent Harmon and La'Porsha Renae. Both are amazing singers and performers with solid, top level deliveries week after week this season on Idol. No matter who wins, I don't think we can go wrong.
The voting has wrapped up and the results are decided so now we can talk about who is going to win while we wait.
Trent has lead our polls week after week. He's been a fan favorite here on the site for our readers but so has La'Porsha who has consistently ranked second right behind him. Could that have shifted after last night's performances?
I'd have to give Trent the edge last night especially in the final round where it likely mattered the most for those still undecided. His performance of "Chandelier" was even better the second time and I think what sealed the deal for him.
La'Porsha was no slouch either, though as Branden noted in his review, I really really wish she had gone with "No More Drama" for that extra 'ummph' of passion over "Diamonds." I think it could have made the difference for her.
I'm going to go ahead and predict Trent Harmon will win American Idol, but like I said, there can be no bad outcome tonight. Both are such perfect bookends to the American Idol story that no one should feel disappointed or let down. Their fans can rest assured that both Trent and La'Porsha will have many opportunities to shine well beyond this night.
Official results revealed tonight on American Idol starting at 8/7c for the one-hour show. What do you think will happen tonight on the American Idol results show?