We're ready to watch the last three contestants deliver the very last night of performances as the Top 3 take the stage to sing their hearts out and await the results of your decision with one more walking off the stage before tomorrow night's finale.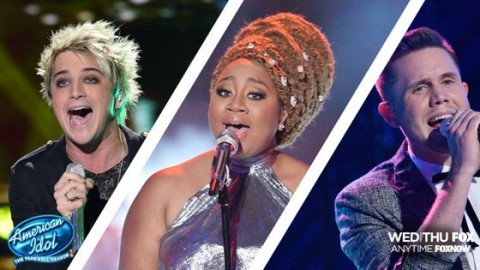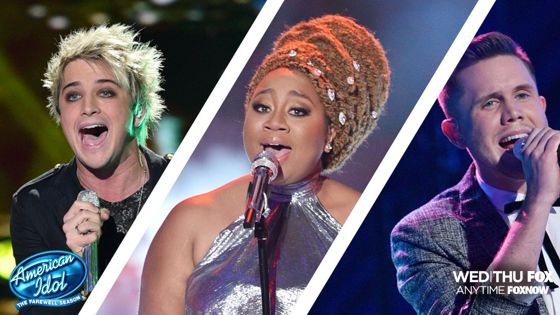 Everyone is set to perform their coronation songs as a preview to what we'll hear if they become the next and last winner of American Idol but we've got a lot more songs to hear along with that from Dalton Rapattoni, La'Porsha Renae, and Trent Harmon. Are you ready?
With just a one hour show there's no time for fluff, filler, or guest performances. Well, maybe a little fluff and filler. This is going to be a great and very memorable night for American Idol as we're about to have our last round of voting for the FOX series. Can you believe this is the end?
We'll be right here through the finalists performances and results so keep this page refreshed for the latest details on who sang what tonight and how to vote for your favorites. Who stays and who goes home tonight?
Let's start Round 1: The winner's song
Trent Harmon, "Falling." This song was tailor-made for Trent. It suited his style perfectly. It's not one of those typical inspirational Idol coronation songs, but is that a bad thing? I don't think so. I could definitely hear this song on the radio.
(Side note: I'm not a fan of the top 3 all performing these songs. I always looked forward to the whole coin toss between the final two and hearing these singles at the end of the show.)
Dalton Rapattoni, "Strike a Match." This song also seems to suit Dalton pretty well. It fit his weak voice well and it actually forced him to smile a little, so that was nice.
La'Porsha Renae, "Battles." Yay, another song with the word battle in it. Fortunately, though, La'Porsha is a great singer and the cliche lyrics don't matter much. Of the three songs, I think this is the least tailor-made and that makes me mad. The recorded version is better, but I feel like she got a bit slighted with this song.
And now it's time for results! Let's find out who our Final 2 are and who will be going head to head for a shot at tomorrow night's title!
The final two for American Idol 2016 are La'Porsha Renae and Trent Harmon!
Round 2: Simon Fuller's Choice
Trent Harmon, "If You Don't Know Me By Now." And this song choice is why American Idol is ending. The creator picked this tacky, stupid song from the 80s. The good news for Trent is, that he made this song not lame for the first time maybe ever. Keith thinks this is going to be the closest race. Jennifer says this final two is going to be quite a battle. Harry rambled.
Vote for Trent: 1-866-436-5710
La'Porsha Renae, "A House Is Not a Home." This was actually a good song choice. So I take back half of what I said about Simon Fuller. I still would have picked a more current song, but this suited La'Porsha. And her vocals were as great as ever. Jlo said it was beautiful, Harry rambled and Keith needs a cigarette after that one.
Vote for La'Porsha: 1-866-436-5708
Round 3: Singers' Choice (their favorite performance of the season)
Trent Harmon, "Chandelier." Trent made a good call picking this song again since it seems to have gotten him the most praise. And I think he actually did manage to do an even better job this time. Harry says that was really, really strong. Keith says it was extraordinary and Jennifer said she knew that he'd be here in the bottom two and that he deserves to win.
Vote for Trent: 1-866-436-5710
La'Porsha Renae, "Diamonds." I'm not sure why she picked this and not "No More Drama." I thought that song could have helped her actually win, but now I'm not so sure. Of course she sang this beautifully, as always. Keith said it was a beautiful job. Jennifer can't wait to go to a La'Porsha show and Harry rambled and baited La'Porsha to remind America she has a baby.
Vote for La'Porsha: 1-866-436-5708
Join us back here on Thursday night for the series finale when we discover who will be the winner of American Idol 2016! Find us on Facebook, Twitter, and Email Updates for the latest American Idol news.