Last night's American Idol XIII premiere was hands-down a huge improvement on what we've seen in the past several years, but was it enough to overcome those previous shortcomings and bring the audiences in?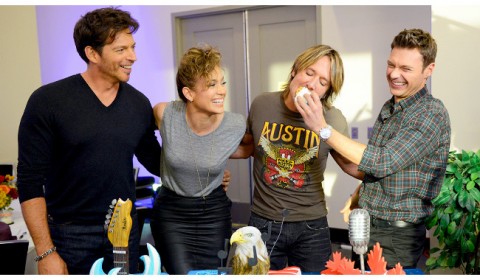 According to the overnight numbers, no, it wasn't a great night for American Idol 2014. Audience numbers fell 23% over last year's draw with a result of just 15 million viewers, according to EW.
Interestingly EW calls out Harry Connick Jr as a disappointing factor in the ratings (Their headline reads: "… worst premiere ratings yet despite Harry Connick Jr.") when I would have said the star power this season is more focused on JLo. Sure, lots of folks know who Harry is, but he's not on the same level as JLo nor is, I would bet, his salary. If any of the judges didn't earn their paycheck last night then more of that weight should go to the center chair.
Luckily it wasn't all bad news for Season 13. FOX highlighted the interesting fact that this was the first time in several years that the premiere beat out the previous season's finale. Now that's crazy, but is it more of a testament to last year's disappoint that this year's success?
Despite the rough start for American Idol 2014's numbers I really do believe they'll recover and slow the ratings-bleed. The show was great last night and the judges panel is so very much better than last year.