Some of the best talent we've seen yet this season showed up at the American Idol 2014 Detroit auditions on Wednesday night. Harry Connick Jr. said in a press conference after the auditions that "a couple of people are straight away Top 3" from Detroit, and we might just agree with that statement. There were so many terrific American Idol auditions from Motor City that it's difficult to pick just a few favorite best performances, but we'll give it a go!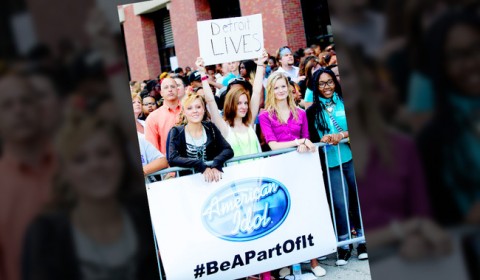 She;'s kind of become the poster girl for American Idol XIII, and some fans are already complaining at how producers have featured her too much. Even so, we like 17-year-old Marrialle Sellars. We first saw her in early promos for American Idol season 13 last year. Then she showed up as the very first audition to be shown on the 2014 season premiere, even though she auditioned in Detroit and that episode was about the Boston auditions. Marrialle popped up yet again last night in the 'pimp spot' as the last performance shown from Detroit.
So yes, you could say producers have definitely given Marrialle more air time already than any other American Idol 2014 contestant so far. Regardless, we think she's a seriously talented girl and her audition was one of the best from the girls in Detroit. We think she definitely deserved that Golden Ticket, although we think it's time producers gave her face a rest for a while. Otherwise people are going to get sick of her or start forming conspiracy theories about why she's "destined" to win.
Our pick for best guy of the night was easily Maurice Townsend, father of four and a music minister at his church. Maurice blew the judges away with his rendition of "So High" by John Legend. We honestly think he is one of the most talented male singers we've seen yet this season and could see him making at least Top 10. It doesn't hurt that his kids are absolutely adorable as well!
We're still curious what happened to 17-year-old Jena Ascuitto's band, which apparently was going places from what we discovered doing her contestant profile. However, she seems to be just fine on her own as a solo artist. We were impressed with her cover of "Rolling in the Deep" by Adele and think she's going to go far in this competition. Not a winner perhaps, but possibly Top 10 at least.
Some might not agree with us on this one, but we really liked country singer Bryan Watt. That's saying something, considering we usually dislike any contestant who auditions with a former American Idol winner's song. He did solid justice, however, to "So Small" by Carrie Underwood and just seems like an all around talented guy. He may be a bit too generic to make it too far in the competition, but we thought he was one of the best guys of the night.
Last on our best performances list from Detroit is 15-year-old Malaya Watson, who we still can't believe is so young with the voice that came out of her. She wowed the judges and us with her performance and we see big things ahead for this girl.
Honorable mentions to Paris Primeu and Keri Lynn Roche, who were both very good. We just think they had a little less of an impact than the others above, but we think both of them have great potential.
We wanted to include Brandy Neelly and David Oliver Willis in our best performances list, two previous American Idol contestants we've always been quite fond of. However, we felt that both of their auditions last night were a little weak and were not among the top of the night. We hope they'll both rock it out during Hollywood Week though!