What do Caleb Johnson, Alex Preston, and Jena Irene Ascuitto plan to do after American Idol season 13? Well, of course, all of them are hoping they will be off on a wild press tour celebrating their American Idol winner's status! If that doesn't happen, however, what are the Top 3's hopes and fears for the future?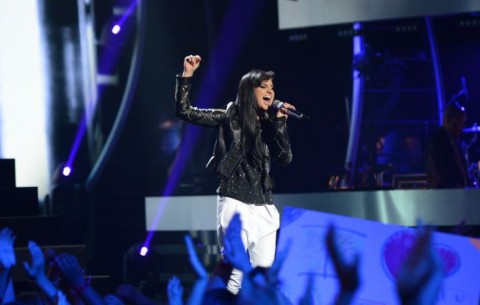 Figuring out how to move on with your musical career after American Idol ends is never an easy prospect. While quite a few American Idol contestants, winners and losers alike, have gone on to have fabulous careers — many contestants fade into the woodwork, rarely to be heard from again.
Making it all the way to the Top 3 on American Idol doesn't mean you are destined to be a star. Often, it doesn't even mean you'll actually ever make a record that anyone even listens to. Naturally, this is a huge fear for American Idol 2014 finalists Caleb Johnson, Alex Preston, and Jena Irene Ascuitto. None of them wants to go quietly into obscurity after the show, or end up being some kind of flash in the pan, one hit wonder.
That means, however, that even if they do win American Idol season 13, they have to be prepared to work hard to reach their dreams. Here's what the American idol Top 3 had to say about their fears for the future and how they hope to overcome them!