While watching the latest American Idol 2014 promo for the Top 7 performances show coming up tonight, we wondered… which of them will we really remember five years from now? There have been so many amazing American Idol performances over the year, but only a few truly impressive artists that we just never seem to forget.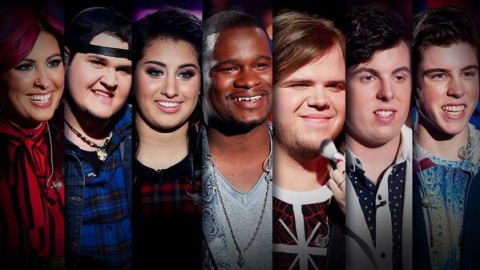 While we think all of the Top 7 finalists are talented in their own ways, we have gotten a feel over the past 13 seasons of who will stick in our minds and who won't. Even the names of some past American Idol winners sometimes elude us because they just never really grabbed us in the first place.
On the other hand, we'll never forget singers like Skylair Laine, Crystal Bowersox, David Archuleta, Joshua Ledet, and Melinda Doolittle, even though they didn't win and haven't had huge careers (so far) since leaving the show. There was just someone special about all of them though. A certain attitude, an engaging stage presence, and at least one performance that reached out through the screen and shook you in your living room.
Which of the American Idol season 13 Top 7 finalists will stick with us the same way? Well, we can already guess that we will probably never forget rocker Caleb Johnson or quirky musician man Alex Preston. Both of them have had some big moments this season, but it is their unique qualities on stage and off that really make them memorable.
Caleb is just a big personality, with a big attitude, and he performs every time like he's in a stadium full of thousands. Alex, on the other hand, is a quiet guy who sometimes has trouble connecting, but he's probably the most talented musician of the group at the core.
As for the rest, we're still waiting for some moment that will really reach out and drag us in. Or the butterfly still too tightly wrapped in it's cocoon to burst out. We feel like Jena Irene is almost there… but still holding back somehow, for example.
There aren't many weeks left to go, so if the rest of the American Idol 2014 Top 7 finalists really want to be remembered as more than just another reality TV contestant, they are going to have to pull out all the stops and go big. Dare it all, be bold, and as my current favorite animated heroine sings: "Let It Go".