The American Idol 2014 premiere auditions continued Thursday night in Austin, TX and San Francisco, CA. We had such a fabulous time watching the first set of American Idol auditions on the season premiere, we couldn't wait to see what was in next. Thankfully, we were not disappointed by the talent or the judges on night two of season 13!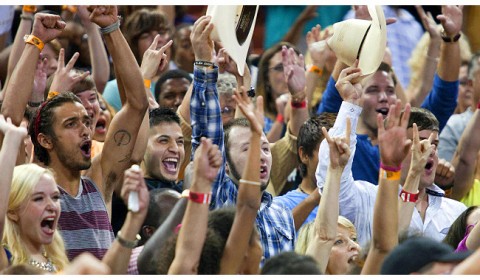 American Idol judges Jennifer Lopez, Keith Urban, and Harry Connick Jr. were a total riot on part one of the season 13 premiere on Wednesday. Plus, we tthink the talent has really been kicked up a notch this season. Happily, part two of the American Idol XIII premiere was just as much fun to watch as the first night.
So what kind of great talent did we have coming out of the second part of the Austin, TX auditions? Here are our favorites from the evening.
One of the judges' favorite auditions from the night was black-guitar playing, tattooed singer Jesse Roach. We loved her soulful, raspy voice and her whole package. She's actually one of our favorite girls so far this season because we feel she really is an artist, not just a singer.
We're including handsome young Spencer Lloyd in our best of list because he has generated a HUGE amount of online buzz for his performance. Of course, a lot of it is all about how Jennifer Lopez couldn't stop gushing over his good looks. His audition was good, but we don't think it was great. However! We have seen better performances from him online, and we urge you to give a listen to some of them on his contestant profile.
We did not see President Barack Obama impersonator T. K. Hash's name on our leaked list of American Idol 2014 Hollywood Week contestants, so he was a total surprise contestant to us. It's nice to have good surprises! This 28-year-old service manager from Charlotte, NC is a great singer and we thought he was one of the best of the evening. Also, we thought Keith Urban was awesomely funny singing along.
The last time we saw Megan Miller, she was being cut from American Idol season 12. We really liked her spunky attitude and determination, especially auditioning while precariously perched on crutches last year! We don't think this audition does as much justice to her voice as it should, but we still think it was one of the best girls of the evening.
In what we believe may be an American Idol first ever, the SON of a former finalist contestant auditioned in Austin, TX. Tristen Langley, the 16-year-old son of season one finalist Nikki McKibbin, actually auditioned for American Idol season 12 according to The Idol Pad, but did not make it through to the judges' round. Now he's back again for 2014.
We don't actually include Tristen because we think he was one of the best performances of the night, but he was definitely a highlight as the first second generation American Idol contestant to go to Hollywood Week. We don't think it is likely he will survive to the next round though.
American Idol 2014 Austin Auditions Photo Gallery
(click the pics for bigger photos or to scroll through)
Be sure to tune in with us for more American Idol spoilers, news, recaps, and more all season long!