On the second half of the American Idol 2014 premiere Thursday night, the auditions continued in Austin, TX before moving on to San Francisco, CA. We've already posted up our favorites from part two of the Austin auditions, now we dish our choices for the best from the San Francisco auditions!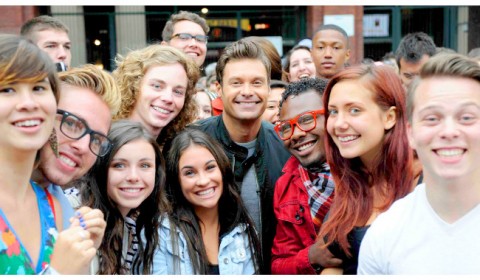 Our first pick from San Francisco is 17-year-old Rachel Rolleri, who performs "Stay" by Sugarland with guitar in hand. As you might assume, she's a country singer. The American Idol judges seem pretty pleased by her, although Harry gets silly when Keith starts talking about Rachel's chord work on the guitar.
We don't think he will survive to the live rounds, but we really appreciated the original song audition from 26-year-old David Luning. He had a gorgeous voice, his song was terrific, and he wailed on the guitar. However, we just don't think he is the American Idol type that will get a lot of votes… and so the judges probably won't pass him through. They pretty much already set the stage for that already.
We were sad when 17-year-old Briana Oakley was cut last season, far too soon in our opinion. So we are delighted she is back again this year, especially after her killer audition of "Stay" by Sara Bareilles.
The American Idol San Francisco auditions also included two very interesting hopefuls we found out about in pre-season spoilers, EmKay Nobilette (a.k.a. M. K. Nobilette or EmKay Brazil) and Emmanuel Jay Zidor. We couldn't get a video of M. K.'s audition yet, but here's a pre-Idol video of her. We think she has a pretty killer voice, as does Jay Zidor… if he'll let go of the oversinging a bit.
Although some of our readers really prefer we don't mention a contestant's sexual orientation, we feel it is worth mentioning in this case that both Jay and M. K. are openly gay. In the past, American Idol has often been accused (rightfully or not) of "closeting" gay contestants like Adam Lambert or Clay Aiken while they are on the show.
In more recent years we have had some out gay contestants, but they've often been 'joke' contestants, or just kind of way over the top in style or personality. These two hopefuls just seem relatively normal, talented singers who just happen to be gay. That's a positive change in our opinion, and the last we'll say about it.
American Idol 2014 San Francisco Auditions Photo Gallery
(click the pics for bigger photos or to scroll through)