We don't know a lot yet about American Idol 2014 contestant Spencer Lloyd other than that he is already making teenage girls swoon across the country after his audition in Austin, TX. Apparently there are quite a few fans out there who think he is definitely one of the cutest hopefuls we know about so far, which certainly isn't going to hurt his cause one bit if he makes it to the voting rounds!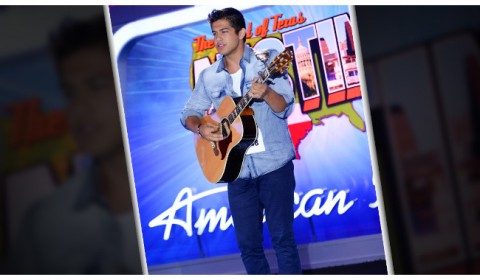 American Idol Spencer Wolf Audition:
Road to Hollywood Interview:
Background:
Spencer Lloyd hails from Bryant, Arkansas according to his Facebook profile, and he's been doing the music thing for quite a while. There are a number of photos of him out performing various gigs and what looks like a few from inside a recording studio as well. Spencer also has quite a few photos of himself with a beautiful brunette as well, but a reader claiming to be close to Spencer says she is his EX girlfriend. In that case, he is available!
In fact, Spencer seems to be very into his Christain faith, posting favorite Bible passages in a group called The Flipside, which describes itself as "a group of believers living on the flipside of societies standards." He's also a member of several other faith-based Facebook groups, including The Ragamufin Church "for those Christians who aren't 'there' yet, the ones who have gotten lost along the way." Don't worry that Spencer might be a stuffed shirt though, as the silly video below shows, he's gifted with a sense of humor as well.
We don't have a lot of clips of Spencer singing so far, but what we do have is pretty good. We are especially in love with this bit of teaser of him performing "Say Something" dug up by the IdolAppreciation YouTube channel.
If this clip is any indication, Spencer Lloyd won't just be relying on his good looks to impress the American Idol judges. Want to hear a bit more? Here's an audio of Spencer singing "Wicked Games" by Chris Isaak.
According to his Facebook profile, Spencer Lloyd is a big Angie Miller fan, which we approve of very much! She was one of our top favorites of the past few years of American Idol. (He actually says in one of his more recent Twitter posts that he'd like to go skydiving with her after watching Mean Girls.) Actually, Spencer seems to have a connection with several American Idol contestants who auditioned this season, including Savion Wright and Megan Miller, with whom he recently appeared in a TinyChat on Megan's website.
Spencer also lists All Sons & Daughters, SHONLOCK, The Point!, Skillet, Louis Armstrong, and Beckah Shae among his other musical likes. As for his other interests, Spencer Lloyd is a fan of comedy movies, including Napoleon Dynamite and Anchorman, and TV shows like Psych and The Office. He's also a Steelers fan, if you want to know, and has a bunch of photos of himself at one of their games. Spencer only lists one book in his likes though, and that's The Bible.
So far Spencer Lloyd has made it to the Top 30 on American Idol 2014. Do you think he has what it takes to make it all the way to the finale?