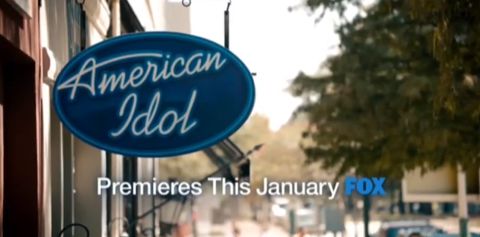 The new American Idol 2013 season premiere in January is quickly approaching and that means it's time for a new round of American Idol spoilers! Thanks again to the hard working folks at The Idol Pad (TIP) we can now take a look at the rumors for who has made it on to Hollywood.
Are you ready for some spoilers for Hollywood Week? Below is an abbreviated list from TIP's collection with a focus on returning Idol Hopefuls and how far they previously made it, but you can read the whole list there.
Keep checking back and we'll update you as the preseason goes for any new spoilers. Join us on Facebook and Twitter to get those details sent right over.
TIP has done an incredible job of capturing images, like the one below, from the recent Idol promos and worked on tracking down names based on the faces. That list of captured images is worth checking out because maybe you'll recognize someone and can share a name (anonymously, of course).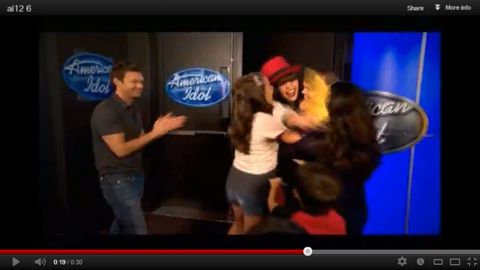 American Idol 2013 Spoilers – Hollywood Week – Rumored Returnees
Brandy Neelly [AI10 HW & AI11 HW]
Brianna Marie Bell [AI11 HW]
Candice "Candi" Rickelle Glover [AI9 HW & AI11 LVR]
Chris Watson [AI7 HW]
Christian Lopez [AI11 HW]
Cortez Shaw [AI11 SFYL/GM]
David Leathers, Jr. [AI11 SFYL/GM]
Denise Jackson [AI6 HW, AI7 HW, & AI10 LVR]
Elijah Liu [AI11 HW]
Janelle Arthur [AI10 HW & AI11 LVR]
Jessie Lawrence [AI8 HW]
Johnny Keyser [AI11 LVR]
Keith Claiborne [AI11 HW]
Laura Lee Bishop [AI11 HW]
Schyler Dixon [AI10 HW & AI11 LVR]
Shelby Lynn Tweten [AI11 SFYL/GM]
Tenna Torres [AI11 LVR]
Remember that these names are just a small subset of the longer and growing list over at The Idol Pad. There are a lot of familiar names on that list. Any that you hope make it to the finalists stage this time around?