American Idol 2014 best friends Caleb Johnson and Jena Irene Ascuitto are still making beautiful music together long after the competition is over. The American Idol winner and runner-up recently wrapped up the Live Tour and went their separate ways, but recently came back together for a fabulous duet of "Radioactive" by Imagine Dragons.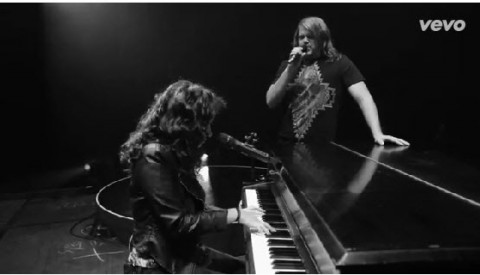 American Idol 2014 winner Caleb Johnson just released his new album, Testify, back on August 12 to a less-than-stellar response. We can't help but think that maybe if the CD had contained a couple of duets with bestie Jena Irene, the sales might have been a bit better. The two of them really do make a fabulous pair when they get together and make sweet harmonies with their killer voices.
Caleb Johnson and Jena Irene famously went to prom together after American Idol season 13 wrapped up, but as far as we know they still continue to just be best pals. Caleb has noted that Jena is far too young for him and that their relationship is purely platonic. But while there may not be any romance going on, there is no doubt they certainly have some serious musical chemistry!