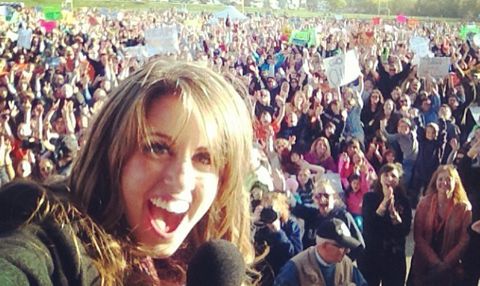 Angie Miller, the American Idol 2013 top 3 finalist, flew back to Beverly, MA this weekend for her Homecoming Tour, part of the final three tradition on Idol. If crowds are any indicator then Angie has incredible momentum heading in to these last two weeks of the competition.
According to local news source SalemNews.com there were an estimated 20,000 fans in attendance as Angie rolled back in to town to the cheers of fans, family, and friends.
An estimated 20,000 people lined the downtown and poured onto the playing fields at Beverly High School today to welcome home Angie Miller, the 19-year-old who has gained fame as one of the final three contestants on "American Idol."

Fans stood on rooftops, clamored atop cars and climbed step ladders to get a glimpse of Miller as she rode in a white Mustang convertible in a 1.3-mile-long parade from City Hall to the high school.
Angie performed a stack of songs for her fans including her original song "You Set Me Free" along with "Titanium," "Home," and others. Check out the videos below for all of her American Idol 2013 Homecoming performances.
Angie Miller – American Idol 2013 Homecoming videos:
Source: MJsBigBlog & Instagram