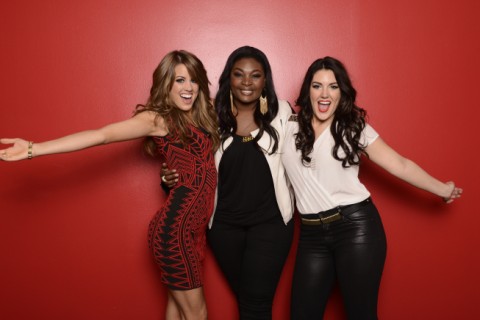 Are you ready for more American Idol 2013 performances than ever? Well you better be because the theme this week on American Idol will require our remaining three finalists to perform not one, not two, but three individual performances on stage come Wednesday night.
So what will they be singing? Choices, choices, but it won't be their choice. Instead Angie Miller, Candice Glover, and Kree Harrison will take on three picks selected by American Idol. Jimmy Iovine will be selecting one song for each of the ladies as will the judges panel and the same goes for Idol producers.
Back when there were only three judges we'd hear how each judge picked a song for the final three during their hometown visits, but now that we have four judges it'll more likely be a collaborative selection process there. I'd expect the judges' pick to really just be another producer selection anyway.
We're likely to hear the spoilers for American Idol's songs this week well before Wednesday night's show. We'll report that news here when it's leaked.
What do you hope to hear from the American Idol 2013 Top 3?
Source: The Idol Pad