American Idol 2014 contestant Austin Wolfe is a woman of many hair colors. In some of the videos and photos we've found, she's a blond. In others, she's a brunette. Sometimes, she has a little bit of a redhead thing going on. Of course, all that really matters is whether or not she can sing! The answer to that? Well, in our opinion… hell yes!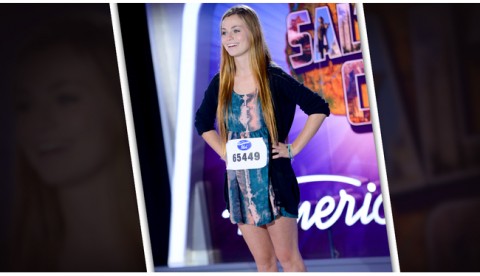 American Idol Austin Wolfe Audition:
Road to Hollywood:
Background:
Austin Wolfe has apparently been working hard to make it as a singer for quite a while, even though she's not even out of high school yet. According to an article about the young singer at ParkRecord.com, she hit the stage for the first time when she was just four years old — when she crashed the stage at a music festival in Aspen and just started singing. "I've been singing pretty much since I could talk," Austin said. "I've always wanted to be a pop star."
Well, now Austin may get her wish since we have learned she is among the hopeful contestants who will audition in front of the American Idol judges for season 13. We're sure this is a huge deal for a young girl who was writing her first songs at 6 years old.
In pursuit of her dream, Austin took voice lessons at the Utah Conservatory and trained with local singer/songwriter Mary Beth Maziarz. This collaboration landed her face time with a local music producer, who helped her start putting her music out there. We amusingly note that in the ParkRecord.com article, published in 2010, it talks about how Austin will be eligible for American Idol in "a few years." Looks like that time is now!
Austin's very proud Mom has a YouTube channel full of videos of her little girl on YouTube performing covers and original songs, most of them in front of an audience of some kind. Austin herself picks up where  these videos channel leave off with her own YouTube channel.
While we like that Austin has cut her teeth in the local scene playing at open mic nights, we much prefer the quality of this video of her singing "Broken."
On Austin Wolfe's ReverbNation profile, she states that she is a "singer/songwriter who creates soulful  pop ballads that resonate with young adults." She lists herself as a co-winner, in collaboration with Mystique, of the 2012 Adobe Aspire Awards for the song "Big Feet." We couldn't find a video of that song, but you can listen to it and several others here.
According to her bio, Austin was also a guest vocalist on Tribes' release Red Moon, and has performed with Brogan Kelby, Mere Image, and Holy Water Buffalo. No stranger to singing competitions, Austin has also placed in state and regional vocal contests. Austin's touring schedule for shows that she has played out in Ohio and extensively in her home town of Park City, Utah and the surrounding area.
Austin has two singles available on iTunes and at one point promised to have a licensed cover of Rihanna's "Stay" available soon, but we couldn't find it for downloading. We did find a fab video of her doing it though, which you can watch below.
By the way, this Austin Wolfe is not to be confused with another singer from Canton, OH who goes by the same name. He's a guy and not an American Idol contestant this year that we know of…