We first met American Idol season 13 contestant Briana Oakley during last year's auditions. Briana, then just 16, was a strong favorite during the audition rounds of season 12, but failed to make the semi-finals. Now she's giving it another try this year for American Idol 2014 with a second chance to go after her dreams of winning.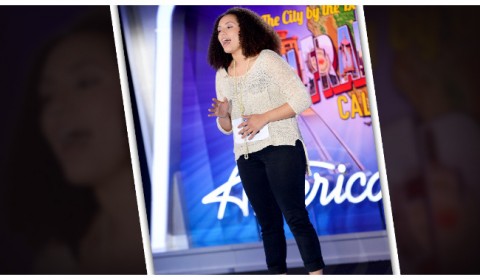 American Idol Briana Oakley Audition:
Road to Hollywood Interview:
Background:
We are delighted to see Briana Oakley in action again for American Idol 2014. Her story last year was very touching, but it was her voice that we really fell in love with. We're sad she didn't make it through back then and are very glad she's getting another go at making it to the top.
Antioch, CA resident Briana Oakley has been singing and performing since she was a little girl and in 2009 was featured on the Maury Povitch Show in an episode about "America's Most Talented Kids." Instead of leading her to fame and fortune, however, the experience resulted in her suffering from tremendous bullying as a kid. Although she eventually had to switch schools, Brianna didn't let the negative treatment by her peers keep her from pursuing her dream, and kept right on singing.
Brianna, who most recently attended an all-girls Catholic High School, first auditioned in Long Beach, California for the 2013 season of American Idol, and wowed the judges with her rendition of "Up to the Mountain" by Patty Griffin. Keith Urban thought it "was fantastic, Good lord!" and Nicki Minaj just kept saying "Wow, wow, wow."
Briana said during her Road To Hollywood video interview for season 13 that she is a superfan who has been watching American Idol since season 1. In fact, she considers original winner Kelly Clarkson as her biggest inspiration in trying out for the show.
Interestingly, Briana said one of the things that makes her unique is that she "loves ghost hunting" and she's a "huge buff on all that and the paranormal and everything, that's something that's different about me."
Sadly, Briana and her lovely soulful voice did not manage to make the Top 40 in season 12, as she was eliminated shortly after the performance above during Hollywood Week. We're hoping she will make it a lot longer this year. In fact, some of our readers have already commented on our site they think she could maybe win it all!