In one of the American Idol 2014 spoilers promos for the new season, Casey says his baby daughter is his "really precious reason" to achieve his dream of winning American Idol 2014. So far he's made quite a lot of progress on that goal by making it to the season 13 Top 30.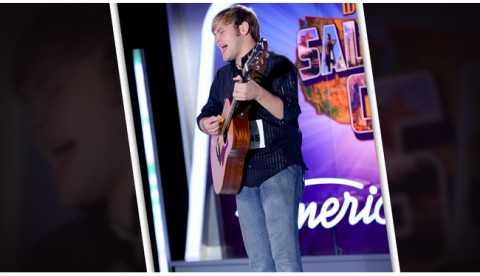 American Idol Casey Thrasher Audition:
Road to Hollywood:
Background:
Turns out Casey has two little kids to take care of and right now he's living with his aunt. He says he's done all kinds of crappy jobs and would love to do what he loves and still be able to provide for his family.
We haven't been able to track down Casey on Facebook or Twitter yet, despite the fact that we know he apparently plays out with a group called the Casey Thrasher Band. Actually, we think Casey recently deleted his Facebook profile since we did find a link to one that looks like it was probably him, but it has now gone AWOL.
Not a bad move for an American Idol contestant if you have things from the past you don't want everyone in the world knowing about you. In fact, so many of them remove their Facebook profiles or replace them with bland non-personal fan Facebook pages, we think it is probably mandated by the producers.
We did manage to track down a tiny bit of video of Casey and his band , originally posted on Keek,  playing at the Green Lantern bar & pub in Tuscaloosa. In this very brief clip, Casey's band seems firmly in the country category, so we're going to guess that is probably what genre he'll be going for on American Idol season 13.
Casey and his band were also apparently Battle of the Bands winners at the Rhythm & Brews club in Tuscaloosa, Alabama not long ago. According to an article on ThePlanetWeekly.com about the contest, Casey and his band played "soulful covers of country songs that drove the crowd into a honky-tonk frenzy."
We also found Casey's name out there with several other Tuscaloosa references, so we are going to guess this is is his hometown stomping grounds. There's another little clip over here we dug up of him and the band prepping for a show, but it doesn't show much.
So far, Casey Thrasher has made it to the Top 30 on American Idol 2014. Do you think he could be a potential future winner?