Here come the Group performances on American Idol! Hollywood Week is ready to transition from the solo numbers to the group round and all the seemingly inherent challenges that go with it. Or maybe not this time.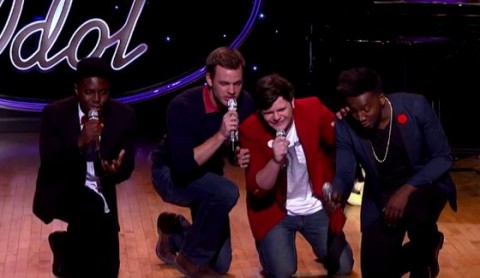 "Double Stuff" is the name of this quartet (see what they did there?) which includes J None, Clark Beckham, David Willis, and Jesse Cline. They're performing "Signed, Sealed, Delivered" and they do a heck of a job with it.
The performance is smooth, harmonious, and well coordinated. So much so that I'm wondering if we're watching the best group performance of the night or it they'll all be this good! Okay, probably not, but this video does give me hope.
click images to see full-size views
Watch for yourself and then join me in asking "why does this keep happening to David Willis??" We may never know, but I'm glad to see him back yet again on American Idol.
Can't wait to find out which of these singers make the cut? Check our Spoilers list.